Nick Clegg warns against 'browbeating' the BBC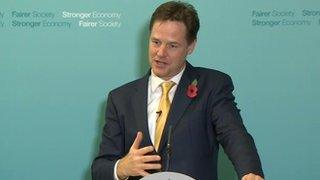 Deputy Prime Minister Nick Clegg has warned a senior Conservative colleague against "browbeating" the BBC.
Tory Party co-chairman Grant Shapps said on Sunday the BBC could face a cut in the TV licence unless it rebuilds public trust and suggested some of the corporation's news output was biased.
Mr Clegg said the BBC did "have its work cut out" after recent scandals including over excessive pay-offs.
But questioning its impartiality was "not healthy" and must stop, he said.
In a newspaper interview, Mr Shapps challenged some of the BBC's reporting on immigration, benefits and the impact of spending cuts on public services.
Negative publicity over pay-outs to top executives and the handling of the Jimmy Savile sex scandal meant the BBC was in danger of "frittering away" public trust, he added.
'Guardian'
He suggested it may have to share some of its licence fee unless it became more open about how it spent people's money, claiming there were "lots of different ways" the money could be used to back public service broadcasting.
Asked about Mr Shapps' comments at his monthly press conference, Mr Clegg said it was "self-evident" the BBC - which is largely funded by the TV licence fee - must be sensible about its spending and be a "guardian of impartial reporting".
"The new BBC leadership has got its work cut out to make sure that is the case," he said.
But he added: "That being said, like clockwork a few months before a general election now it seems, and certainly in the past, chairmen and women of the Conservative Party will pop up and start seeking to browbeat the BBC.
"I hope that is not what Grant Shapps intended because I don't think that it is very healthy at all when political parties start trying to have go at the impartiality of the BBC.
"It's something we have seen a lot of before and something I hope we don't see more of again."