Ministerial interests: Cameron patron of 29 organisations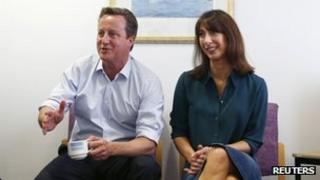 David Cameron is a patron of 29 organisations, including the European Union Youth Orchestra, according to a new list of ministers' interests.
Last published in 2011, it includes declarations of share holdings and details about the careers of ministers' spouses, partners and siblings.
Chancellor George Osborne is vice-president of the Old Pauline Society, for alumni of St Paul's School.
And Theresa May is patron of the Pink Shoe Club networking society.
The first list of ministerial interests - which relate to individual specific ministerial responsibilities rather than their wider parliamentary responsibilities as MPs - was published in 2009.
On coming to office, the government said it would seek to update details of relevant interests every six months as part of a drive for greater transparency but Labour says it has consistently failed to meet this target.
Under the terms of the ministerial code, ministers must ensure that no conflict arises, or could reasonably be perceived to arise, between their ministerial position and their private interests, financial or otherwise.
The latest list - which covers 54 pages - includes new members of the government appointed in September's reshuffle.
Prolific
Thirteen ministers, including Ken Clarke, Francis Maude and Owen Paterson, have financial interests in blind trusts, investments which are administered by third parties.
Mr Cameron is a patron of twice as many organisations as any other member of the government. He supports organisations as varied as the Chipping Norton Lido, the Atlantic Council of the UK and The Peel Society.
Since the list was last published, his wife Samantha has added Vitalise and Contact a Family to the list of voluntary organisations that she supports.
Other prolific supporters of the voluntary sector include Work and Pensions Secretary Iain Duncan Smith and Business Secretary Vince Cable who are patrons of 14 and 12 organisations respectively.
Mr Cable's new interests include being a patron of the charity My Big Career while Mr Duncan Smith has taken on roles as Patron of Chat and Gangs Unite.
The list also makes reference to ministers' family members and their chosen professions.
Education minister David Laws discloses that his sister-in-law and his partner's sister are both teachers while health minister Norman Lamb details that his sister and sister-in-law both work in the national health service.
The brother of new environment minister George Eustice, himself a former farmer, is described as chair of the British Lop Pig Association while new Scottish secretary Alistair Carmichael's wife is a partner in a firm of veterinary surgeons.
Jo Johnson, the head of the Downing Street Policy Unit, points out that his brother, Boris, happens to be mayor of London.
Several ministers, including new housing minister Kris Hopkins and Foreign Office minister Mark Simmonds are among those not to list any relevant interests.