Ed Miliband: Only Labour can secure 'recovery for all'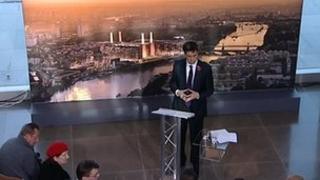 Ed Miliband has pledged to tackle the "Wonga economy" of payday lenders and move to restore the "broken link" between living standards and growth.
Labour's leader renewed his attack on energy firms, and urged water firms to offer special tariffs for the low-paid.
The election would offer people a choice whether to "tackle the cost of living crisis or shrug our shoulders".
At the same time, ministers have written to water firms urging them to keep bills at "affordable" levels.
Labour has made the cost of living its central economic argument since Mr Miliband announced plans for a 20-month energy price freeze from May 2015 should Labour win the next election.
Four of the so-called "big six" energy firms have announced price rises of between 8% and 10%, taking the cost of an annual dual fuel energy bill above £1,400 in many cases.
'Workable'
In a speech in London, Mr Miliband said he would force a parliamentary vote on the price freeze plan on Wednesday and challenge Conservative and Lib Dem MPs to back it or set out an alternative.
"It is workable," he said. "It will happen if Labour wins the next election. And Conservative and Liberal Democrat MPs could vote for it.
"If they line up against it, the British people will know the truth. This government is on the side of the big energy companies not hard-pressed families."
Research by Labour, he argued, suggests that more than half of the annual increase in fuel bills since 2011 has gone directly to support the profits and costs of the leading energy firms.
The "big six" say they have been forced to raise prices because of the increase in the wholesale price of energy, rising transmission and distribution costs and environmental and social obligations imposed by successive governments.
They say profits account for about 5% of the average bill and insist they would reduce bills if the cost of green levies - which ministers have pledged to review - were paid out of general taxation instead of being passed onto consumers.
Mr Miliband said Labour was determined to reform markets "not working in the public interest" - citing a proposed levy on payday lenders, a cap on regulated rail ticket increases, and a crackdown on private rental charges as well as tax breaks for employers to offer a "living wage".
'Make do and mend'
Mr Miliband criticised what he called Britain's "Wonga economy", saying that the rise of payday lenders such as Wonga symbolised the squeeze on living standards facing millions of families.
He accused the firms of preying on the vulnerable, creating a "quiet crisis" for thousands of households left with debts they were unable to pay off.
His comments came as executives from payday lenders faced questions from MPs, and prompted a strong response from Wonga, who accused Mr Miliband of "rehashing myths about our business".
The firm said their levels of bad debt were comparable with credit cards at 7.5% and said that as a "responsible lender we reject 80% of first-loan applications, while the successful 20% borrow an average of £178".
"While we recognise there have been unacceptable practices in the sector... we have used technology to bring competition into traditional financial services for the benefit of people across the country."
Mr Miliband also called for extra help for people struggling to pay their water bills. New social tariffs for the low-paid, which were introduced on a voluntary basis last year, should be made compulsory, he said.
The issue of household bills has become a hot political topic in recent weeks and ahead of Mr Miliband's speech the government wrote to water firms to urge them to "look closely" at the need for future price increases amid concerns about the size of bills and specific plans for a 8% rise from Thames Water, the UK's largest supplier.
"We know that household budgets are under pressure, and keeping water bills affordable is a crucial way we can help hardworking people," Environment Secretary Owen Paterson said.
"That is why we are pressing hard to make sure customers get a fair deal, by encouraging water companies to look closely at any price increases, introduce social tariffs for vulnerable customers and crack down on bad debt."
But Mr Miliband accused ministers of a "make do and mend" attitude to the squeeze on family finances - saying prices were continuing to rise faster than wages and the benefits of the recovery were being "scooped by a few at the top".
"We have a prime minister who thinks we can detach our national economic success from the success of Britain's families and businesses," he said.
"We have to permanently restore the link between the growth and living standards for all Britain's working people. This government cannot do it. And the reason is because they are wedded to Britain competing in a race to the bottom."
The government has said the energy price freeze is a con which will force up prices while the CBI business group has warned Mr Miliband and others against "simplistic soundbites" over prices.
David Cameron and Nick Clegg say stronger-than-expected growth, falling unemployment and low interest rates show they have won the argument and Labour's policies would risk higher borrowing and financial instability.
Ministers point to recent action they have taken on the cost of living, such as limiting rail ticket rises, freezing MoT costs and pledging to freeze fuel duty until 2015.