Puppy and kitten welfare e-petition demands new rules on sales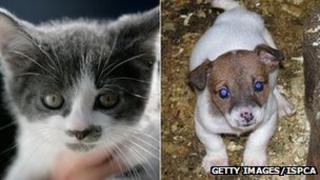 The sale of puppies and kittens should be banned "unless their mothers are present", e-petitioners are demanding.
The submission to the government's petition website draws attention to the plight of puppies and kittens "mass produced" in "horrific" farms.
It is the second-most popular petition currently open to signatures, and is nearing the 100,000 supporters it needs to be considered for a Commons debate.
The government said concerns about dog welfare should be reported to councils.
Farm-bred puppies and kittens are separated from their mothers too early and go on to suffer impaired immune systems and shorter life spans, the petition claims.
'Fake' mothers
The petition, submitted by vet and broadcaster Marc Abraham, has garnered more than 80,000 signatures, putting it second on the e-petitions website behind one urging the government to "stop mass immigration" from Bulgaria and Romania in 2014, which was debated by MPs in April after passing the 100,000-signature threshold.
"Prospective owners should always ask: 'Where's Mum?' [and] insist on seeing puppy/kitten and mother interacting," it advises, whether the animals are being sold in pet shops, via advertisements in newspapers or websites, or by private dealers.
They should also beware of scams in which a "fake" mother is passed off as a real mother, it continues.
"The only exceptions are rescue animals that have been orphaned/abandoned," it adds.
The petition reads: "We, the undersigned, call on the government to ban the sale of young puppies/kittens unless their mothers are present.
"We ask for urgent action to raise awareness and encourage the public to choose a responsibly bred puppy/kitten at least eight weeks old, or adopt from a legitimate rescue organisation.
"The government must end the cruel practice of puppy/kitten farming in the UK."
'Hobby breeders'
If the petition gets more than 100,000 signatures, it will go before a committee of MPs who will decide whether to hold a Commons debate on the proposal.
It has already passed the 10,000-signature threshold, which qualifies it for an official government response.
A statement from the Department for Environment, Food and Rural Affairs (Defra) noted that existing legislation required dog breeders to obtain a licence from their local authority.
"The local authority has the discretion whether to grant a licence and, before doing so, must satisfy itself that the animals are provided with suitable accommodation, food, water and bedding material; are adequately exercised and visited at suitable intervals; and that all reasonable precautions are taken to prevent and control the spread of diseases amongst dogs," the response added.
Defra also pointed out that is a criminal offence for "hobby breeders" to "cause any unnecessary suffering to an animal or fail to provide for its welfare".
"If anyone has concerns about the welfare of dogs at a particular breeding establishment, they should report the matter to the relevant local authority, or the RSPCA who can investigate any such complaints," it added.