Offering seats to pregnant women is not sexist, says Swinson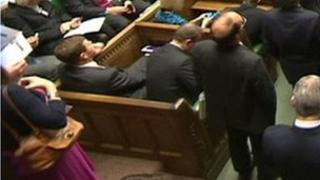 Equalities Minister Jo Swinson has said she does not think it is sexist to offer a pregnant woman a seat.
The heavily pregnant MP found herself at the centre of a twitter storm after reports she was forced to stand during prime minister's questions.
An aide to Ms Swinson was reported as saying it was "sexist" to expect a seat to be offered.
Ms Swinson declined to comment at the time but has now attempted to set the record straight in a web chat.
The MP told an online discussion on Mumsnet.com: "I never said that, and absolutely don't think it is sexist.
"It's lovely to be offered a seat - I don't always want one though."
'Body confidence'
She continued: "On the Tube with heavy bags, often I say yes, though that day at PMQs I knew I could only be there for 15 minutes and was standing with my back against a wooden pillar very comfortably.
"It was a little frustrating that the media seemed not to care whether I actually thought it was a problem or not, and deemed that if I was standing it must obviously have been because I had been 'forced' to, as they put it!
"I just think it's great for people to offer, and part of life's little courtesies. Though when I was incredibly fatigued at about 10 weeks but of course didn't look pregnant was when it has been most difficult so far!"
The live online discussion was focused on "body confidence".
One contributor asked: "Do you agree that women should be getting angry about the cultural pressures heaped upon us and our daughters?"
"Yes, we should be angry, as you say, not just for ourselves but also for our daughters," the minister responded.
"Our body confidence campaign in government is trying to address some of these cultural pressures - there are also huge issues around media sexism, which I've met campaigners about recently.
"Parents - and all of us - have a role to play too - both in challenging stereotypes in conversation and in our purchasing decisions, and encouraging companies and media outlets to act differently."
Ms Swinson's child, her first, is due on Christmas Day, according to reports.