Royal travel budget should be cut, says Labour peer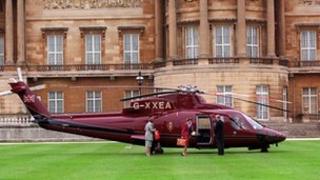 Fewer members of the Royal Family should be entitled to taxpayer-funded travel, according to a Labour peer.
Lord Berkeley singled out Princess Anne for criticism over her use of the royal helicopter to visit horse shows.
He also called on Prince Charles to hand over the Duchy of Cornwall's assets to the county's residents.
Cabinet Office Minister Lord Wallace of Saltaire accused him of getting "fairly personal" and said the Queen was the best judge of royal transport use.
Government spending on the monarchy rose by almost £1m to £33.3m in the last financial year, but the overall cost of official air and rail travel at home and abroad fell by £500,000 to £4.5m.
Lord Berkeley, a former opposition whip, said royal travel arrangements seemed to have become "open-ended" with no "proper independent scrutiny", adding this "obsequiousness" needed to change.
Turning to Princess Anne's arrangements, he said: "I noted that she took a helicopter to visit two gymkhanas in one day. It is fun if you are horsey, but is it really necessary for the taxpayer to pay for it?"
He added: "I believe that the royal travel arrangements, if funded by the taxpayer, should be scrutinised by Parliament in the same way as ministers' travel."
'Feudal'
Lord Berkeley's Rights of the Sovereign and Duchy of Cornwall Bill stands no chance of becoming law without government backing but he has written to Prince Charles to ask for his views on the proposal.
The bill would amend the structure of the Duchy of Cornwall - one of the largest private estates in Britain, owning 120,000 acres of land, including 2% of Cornwall and most of the Scilly Isles - to become a public trust for the benefit of the people of Cornwall and the Isles of Scilly.
"My bill would ensure that the Prince of Wales would no longer be king of Cornwall in the feudal sense," Lord Berkeley said in the House of Lords.
"I think he should retain links with Cornwall, as he does with Wales, but he doesn't own Wales."
Conservative peer Lord Cormack, opposing the "hasty and ill-considered" bill, accused the Labour peer of "niggardly nit-picking".
He said the Royal Family gave "unstinting public service" and their presence at public events was greatly appreciated.
Liberal Democrat Lord Teverson, a resident of Cornwall, said some aspects of the bill were well worth pursuing and would strengthen the monarchy.
'Unacceptable'
But Liberal Democrat Cabinet Office minister Lord Wallace said the Queen asked a number of members of her family to stand in on her behalf and they carried out a large number of public duties.
"The Sovereign is well placed to assess who can best take her place at functions."
He said the Prince of Wales, who holds the title the Duke of Cornwall, chose to use a substantial portion of his income from the Duchy, which totalled £19.1m in 2012-13, to meet the cost of his public and charitable work.
The bill's proposal to place the assets of the Duchy in a public trust was an unacceptable encroachment on private property rights as currently established, he told peers.
Lord Berkeley's bill would also remove the right of the Sovereign and Prince of Wales to give prior approval or not to legislation which affects their "private interest".
In 2011, the peer sponsored a bill on marine navigation but was told it needed Prince Charles's consent because it affected the Duchy.
Lord Berkeley, who is chairman of the Rail Freight Group, inherited his title but was granted a life peerage by Tony Blair in 2000 to enable him to continue sitting in the Lords when most hereditary peers were abolished.