Watchdog clears MP Mark Pritchard over Albania allegations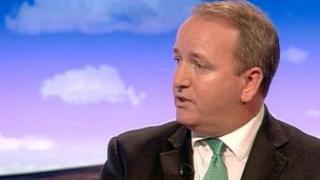 Parliament's watchdog has said it will not investigate allegations about Conservative MP Mark Pritchard's business dealings in Albania.
The Daily Telegraph claimed the MP had offered to use his contacts to set up business deals for cash.
But the Parliamentary Commissioner for Standards decided there was "insufficient evidence" for an inquiry.
Mr Pritchard denied any wrongdoing and referred himself to the watchdog after the "hurtful" claims were published.
The MP for the Wrekin in Shropshire sits on the all-party group for Albania, and the Telegraph reported that he had told an undercover reporter posing as a businessman that he should invest £10m in a group of boutique hotels in the country.
According to the terms described by the newspaper, this would have netted Mr Pritchard more than £300,000.
But there was no suggestion the MP was willing to support deals in Parliament.
He told the newspaper's undercover reporter that he did not lobby, and no money changed hands.