Nick Clegg defends 'West Wing' advisers plan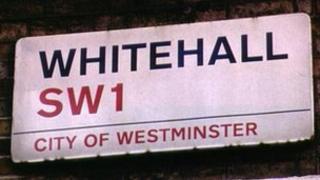 Plans to allow Cabinet ministers to hire more of their own advisers will "help them do their job better", Deputy Prime Minister Nick Clegg has said.
Mr Clegg told MPs that ministers needed access to external expertise and advice not offered by the civil service.
The Times says Cabinet members would be able to appoint ten of their own personal advisers under plans for US-style "extended ministerial offices".
Labour said this would amount to ministers hiring "their mates".
The move could significantly increase the number of political appointees working in Whitehall, bringing it closer to the American system where new presidents hire the majority of their staff when they come into office.
In contrast, British civil servants are recruited through open, independent competition, and are expected to be politically impartial.
'Lacking'
Ministers, who have little say over who runs their departments, have complained of a risk-averse culture in Whitehall and that, in some cases, civil servants have resisted their plans.
They say high-profile problems with the East Coast franchise bidding process and the introduction of the Universal Credit demonstrate the need for changes to how Whitehall works, although David Cameron has rejected calls for a commission to look into root-and-branch changes to the Civil Service.
MPs recently warned that trust between civil servants and politicians was "breaking down", resulting in a lack of accountability when things go wrong. The Public Administration Committee said ministers too often had to "micromanage" projects due to a lack of necessary skills.
Under the shake-up - which The Times says could be announced later this week - ministers would be able to hire a new cadre of officials on fixed-term contracts to work alongside civil servants and their current special advisers.
The Times said the appointees, who would be able to give orders to civil servants, would be able to be members of political parties but not political activists.
However, once appointed, they would also be expected to be impartial. Although there would be no upper limit on the number of advisers in any single department, it is understood only a handful of ministers would be likely to use them.
'Spin doctors'
Asked about the plan at his monthly Commons question time, Mr Clegg said the appointments would have to be properly authorised and the government was not planning to "import an endless series" of political advisers.
But he said it could fill a gap by "allowing ministers access to external policy expertise which is sometimes lacking within Whitehall".
"We are going to explore the way ministers can get access to that advice and expertise so they can do their jobs better," he said.
Unions have warned the move could lead to the politicisation of the civil service, with advisers owing their loyalty to ministers not the public interest.
Conservative MP Philip Hollobone said it would lead to a "West Wing" style of government which would be "completely unpopular" with the public while his colleague David Ruffley said any recruits must be "technical advisers not political spin doctors".
But a Cabinet Office source said ministers received far less support than their counterparts in many other parliamentary systems, such as Canada and Australia, and the proposals had been backed by leading think-tanks and by MPs from across the Commons.
"Ministers in democratically-elected governments need sufficient support to develop and deliver their policy objectives," he said. "As part of our civil service reform programme, ministers can now establish extended offices, drawing on the best talents from within the civil service and beyond."
Mr Clegg also defended the number of special advisers already working in government, claiming their average salaries were lower than under the last government and there was more transparency about their activities.
Labour have said the number of advisers - 72 Conservative and 26 Lib Dem - is higher than when it was in power, breaking a coalition pledge to reduce numbers.