Earl of Shrewsbury hit by congestion charge 'scam'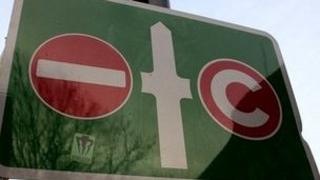 A Conservative peer says he was caught out by a London congestion charge "scam" website.
The Earl of Shrewsbury said it was "disgraceful" that such sites existed and called on the government to take action to "marginalise" them.
Some unofficial websites charge up to £6 more for the congestion charge than if drivers went directly to the Transport for London website.
The companies running the sites say they offer extra services.
But they were branded a "scam" earlier this year by London Mayor Boris Johnson, who warned drivers to take extra care when paying their congestion charge to avoid spending more than necessary.
'Copycat websites'
It is possible to pay the £10 congestion charge needed to drive through central London in advance via the TfL website.
But peers debating "copycat" websites said the unofficial sites often appeared higher in search engine rankings than the official website.
And it was not just the congestion charge - there were also sites charging for services provided free by government departments such as European Health Insurance Cards and passport applications.
The Earl of Shrewsbury, one of the few remaining hereditary peers, said he became a victim of a scam on congestion charging some three weeks ago.
"When I phoned my bank to stop the payment, I was told that it could not be stopped because the money was taken at point of sale," he said.
"It is quite disgraceful that these people are able to do this. Will my noble friend do all that he can to marginalise the perpetrators of these scams?"
Lib Dem peer Lord Wallace of Saltaire, replying for the government, said the government was in constant discussions with Google over the issue and was "actively engaged in looking to do everything we can to limit such activities".
But he added: "Of course, not all of these sites are hosted within the UK.
"We are familiar with many overseas agencies that get into the ether and do this."
And he rejected calls to ban unofficial sites, telling peers: "Quite a few of us have used private agencies to speed up getting passports or visas for other countries.
"Indeed, you can obtain visas through the House of Lords travel office. The question of how far private agencies should be enabled to assist in speeding up the process is difficult."