Ministers defeated in Lords over licences for bankers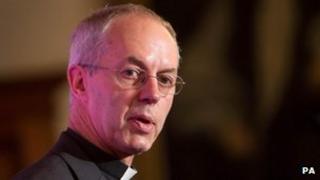 The government has been defeated in the House of Lords over its plans for reforming the banking system.
A Labour amendment to the Financial Services Bill, which would introduce a licensing system for senior bankers, was passed by five votes.
Earlier, ministers agreed to set up a panel of experts to review the effectiveness of regulatory changes.
This will examine whether plans to ring-fence bank retail operations from riskier investment arms are working.
The bill is designed to make a repeat of the 2008 financial crisis less likely by introducing tough internal safeguards to ensure losses in one part of a bank do not spread and threaten its collapse.
'Cultural contamination'
Critics say this so-called ring-fencing does not go far enough and want the regulators to have a reserve power to step in to force banks to separate their investment and retail operations.
"We don't know whether this (ring-fencing) will work," former Chancellor Lord Lawson said during Tuesday's debate at report stage in the Lords.
"We don't know whether there will be cultural contamination across the ring fence because that would be a very serious matter."
Attempts to get the reserve power introduced into the bill were defeated by nine votes although ministers agreed to set up a body to determine whether the proposed arrangements were working.
But ministers were defeated over calls for a licensing regime specifying "minimum thresholds of competence" for senior bankers and adherence to a recognised code of conduct.
The measure, passed by 222 votes to 217, may be overturned by MPs when the bill returns to the Commons.
'Enforceable rules'
The Archbishop of Canterbury, who supported the proposal, said it was right that professional standards in banking were on a par with those for the law and medicine.
The Most Rev Justin Welby, a member of the Parliamentary Commission on Banking Standards, told peers it was not always the most senior staff who could inflict the most serious damage.
"The expectations on senior managers must be high," he said.
"However, it is also right that those who are not part of the senior management of the bank also have high standards."
He told peers it was not always the most senior staff who could inflict the most serious damage.
"They could be a junior dealer, new in the business, who ignoring his internal limits deals in a way that does great damage both to customers and his employer."
Government minister Lord Newby said the proposal would add to regulatory burden on banks "without introducing any real improvements in standards in the industry".
He added: "There will be a regime of regulatory standards for employees encapsulated in enforceable banking standard rules.
"Firms will inevitably have a role in ensuring their staff comply with those standards and taking action if they do not, whilst the regulator will be able to take action if needed."