Give Parliament 'more tools' to scrutinise EU say MPs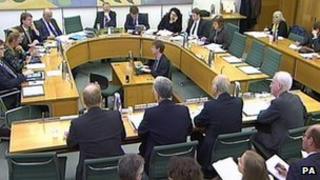 Parliament's scrutiny of European issues and laws emanating from Brussels should be overhauled to ensure greater accountability, MPs are urging.
The European Scrutiny Committee said current oversight was "incomplete" and had not changed hugely since 1998.
It wants more EU-focused debates in the Commons and the Europe minister to answer questions on a regular basis.
It also said each select committee should have a "European reporter" to act as a focal point.
David Cameron has pledged to renegotiate the UK's status within the EU if he wins the next election, prior to holding a referendum on membership in 2017. Labour and the Lib Dems oppose such a vote.
The cross-party committee said major changes within the European Union and in the UK's relationship with Brussels necessitated a "radical" review of how Parliament dealt with EU-related matters.
The committee's main recommendations are:
Parliament should be able to object to EU proposals and veto their application in the UK
Parliament should be able to unilaterally repeal existing EU legislation from the statute book
The government should commit in advance to debates on measures of "strong" interest to MPs
Ministers should be questioned in the Commons before EU summits
Domestic select committees should scrutinise aspects of EU policy
EU committees should have permanent chairs and not be whipped
The UK's representative in Brussels should give evidence to MPs before their appointment
Bill Cash, the Conservative MP who chairs the committee, said the proper scrutiny of EU documents was a prerequisite for holding ministers to account and upholding parliamentary sovereignty.
"EU law directly affects our daily lives. With the current political and economic crisis in the EU and with proposal for an EU referendum, there is an urgent need for radical reform to ensure there is robust cross-party scrutiny to meet modern requirements."
"Our report includes proposals relating to a national veto and the unilateral repeal of European legislation, more effective accountability of ministers and more engagement on the floor of the Commons."
Mr Cash acknowledged that seeking powers to repeal existing legislation would be "legally complex and controversial" but said claims about the supremacy of EU law needed to be challenged.
The committee also said broadcasters, including the BBC, must "improve the information" they provide to the public about EU-related matters and "ask themselves difficult questions" about their coverage.
The EU Scrutiny committee spearheads parliamentary scrutiny of developments within the EU, decides which EU documents are debated and monitors the activities of British ministers.