Ed Miliband promises 'hope' at 2015 general election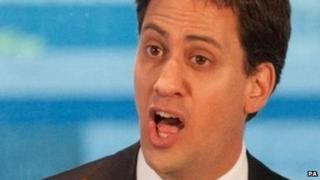 Labour leader Ed Miliband has said the next general election will be a choice of "hope over fear", as he promised a "battle of ideas" between his party and the Conservatives.
Launching his "election war room", he set out plans to use social media and grassroots campaigning to overturn Labour's 2010 defeat.
Mr Miliband predicted the Conservatives would rely on "smear and fear".
But the Conservatives said the Labour leader was "weak" and had "no plan".
At the last election, with Gordon Brown as leader, Labour slumped to one of the worst defeats in its history.
'One-term opposition'
Addressing party staff in central London, Mr Miliband insisted this could be overcome in 2015 and power regained.
He said: "I don't just want to win this election for Labour; I want to win it for Britain.
"And I know we all share that spirit. It will shape the way we campaign and inspire us as we seek to become the first one-term opposition in a generation."
Mr Miliband focused on Labour's argument that, while the economy was improving, living standards were stagnating or falling, saying: "You know that our cause is right and that we're fighting for all the people of our country now facing the worst cost-of-living crisis in their lifetimes. The hopes of millions are resting on our shoulders."
He said Prime Minister David Cameron and Chancellor George Osborne had "finally followed our lead" by taking action against payday lenders and to limit the impact of energy bill rises.
He added: "So be in no doubt: we are winning the battle of ideas. The Tories have no answers. They will always stand up for the privileged few."
Mr Miliband said: "We will be up against the Conservative Party of (Mr Cameron's elections adviser) Lynton Crosby: a party that will fight an election based on division, smear and fear. They will pit public sector against private sector, north against south, those in work and those out of work. We must take our chance to say loud and clear: not here - and not this time."
He added: "Over the next 17 months, we will give Britain the chance to choose hope over fear, to work together, not divide, to succeed as One Nation not two."
The Conservatives say that Labour, had it remained in power, would have done little to reduce public spending, reducing living standards further.
Mr Cameron has accused Mr Miliband of "acting like a con man" by promising to freeze fuel bills for 20 months if his party wins the next election.
A Conservative spokesman said: "What is clear is that Labour have not changed. It's the same old faces - Gordon Brown's boot boys are at the top and (Mr Browns' former spin doctor) Damian McBride's apprentice Michael Dugher is the campaign chief.
"They have no plan for Britain - nothing to say on the economy, jobs or welfare. All they want is more borrowing, more spending and more taxes.
"Ed Miliband is too weak to lead, and it's hardworking people that would pay the price through higher taxes and mortgage repayments."