No 10 apology over microphone clash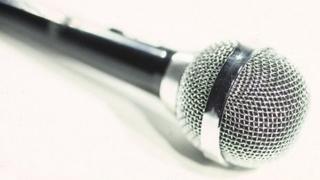 Downing Street has apologised after a TV producer's microphone was knocked to the floor after he had posed a question to the prime minister.
Channel 4 News's Tim Bouverie shouted to ask David Cameron about cigarette packaging policy while he was on a visit to a museum exhibition on China.
He said a member of the PM's staff had "ripped" the microphone from a camera.
But a No 10 source said the aide had stumbled into Mr Bouverie as they approached him in a cramped press area.
This was an "accident", the source added, telling the BBC there had been a prior instruction to Channel 4 News that the crew would not ask questions during the prime minister's walkabout.
'Pre-arranged'
Mr Cameron was on a visit to London's Victoria and Albert Museum's Masterpieces of Chinese Painting 700 to 1900 exhibition, when Mr Bouverie shouted: "Have you changed your mind about packaging cigarettes? Is this another government U-turn?"
On the footage, there is then a ruffling noise for a few seconds until normal sound levels are restored.
On Twitter, Mr Bouverie wrote: "Just tried to ask the PM about cigarette packaging. He didn't answer but No.10 staff ripped microphone out of our camera."
Channel 4 News's political correspondent Michael Crick added: "My C4 News colleague @TimPBouverie is smarting from Number 10 press officer ripping mic from his hand while doorstepping Cam. Then ejected."
But a Downing Street source said the member of staff had accidentally tripped as they approached Mr Bouverie to remind him that questions were not permitted. They apologised for this.