Lib Dem says PM may 'look back fondly' on working with them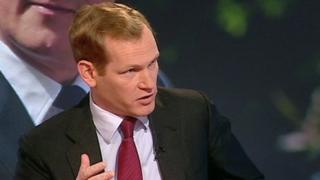 David Cameron may look back "fondly" on his time in government with Nick Clegg if he ends up "in coalition with the right of the Conservative Party" after the next election, a Lib Dem has said.
Ex-minister Jeremy Browne told the BBC's Daily Politics, future Conservative or Labour governments with slim majorities would probably be "buffeted" by events, he added.
Tory MP Michael Fallon disagreed.
He said the Tories had been held back in some policy areas by the Lib Dems.
"You've got to hope that in a democracy if you do the right thing and you consistently make wise and sensible decisions that people will recognise that," said Mr Browne, a former Home Office and Foreign Office minister who lost his job in the October reshuffle.
"It's perfectly plausible for the Liberal Democrats to be in coalition again after the next general election. Of course we don't know how many seats each party will get.
"If either Conservatives or Labour were to get more than half the seats, neither of them would have an appetite for a coalition with the Liberal Democrats.
"Although of course if the Conservatives, for example, were to win with a majority of four, say, or Labour were to win with a tiny majority, people would look back fondly, I anticipate, at this period of stable government, compared to being buffeted on a daily basis by a government with a very small majority.
"So you have to be careful what you wish for with the other two parties. There's quite a lot to be said for stable coalition."
He concluded: "I think if David Cameron after the next election finds himself in coalition with the right of the Conservative Party, he'll look back fondly on when he was in coalition with Nick Clegg."
But Mr Fallon, a Conservative business and energy minister, told the same programme: "No, I really don't agree with that."
The coalition had done "reasonably well" in government, concentrating on cutting the deficit and stabilising the economy, he said.
But Conservatives had been held back in government by disagreements with the Lib Dems on, for example, their efforts to reform the European Convention on Human Rights, he argued.
"Honestly, you're better off with a majority government," he said.