Farmers must not lose out on EU payments, say MPs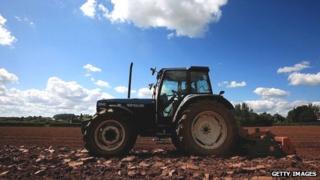 Ministers must not shift agricultural funds from working farmers to environmental schemes, MPs have warned.
The government could use up to 15% of the EU's Common Agricultural Policy payments for this purpose, following a relaxation of EU rules.
But the Commons Environment Committee said the figure should be kept at the current 9% unless the extra cash can be proved to bring a "clear benefit".
The government said it would consider people's views before deciding.
The Common Agricultural Policy - which consists of direct payments to farmers - makes up most of the EU's agriculture budget. Nearly 40% of total Brussels spending is allocated to agriculture.
'Vital'
Under the EU deal, agreed earlier this year, the wealthier member states, including the UK, are able to transfer up to 15% to environmental schemes.
The government is consulting on whether to introduce this change in 2017.
The committee's chairman, Conservative MP Anne McIntosh, said: "We recommend that the government maintains the current 9% rate of transfer away from the direct payment budget. This rate of transfer should rise to 15% in 2017 only if it can demonstrate that additional funds are required and that this change will deliver a clear benefit."
She also said: "Against a background where farm incomes are falling, the government needs to recognise that cutting payments to these businesses will reduce their ability to compete in the marketplace, will leave farmers less able to invest in vital infrastructure and may make them more vulnerable to shocks such as poor weather, higher input costs and price variations."
A Department of the Environment, Food and Rural Affairs spokesperson said: "We want to target Common Agricultural Policy funding in ways that will deliver real benefits to the environment, boost the competitiveness of our farming industry and grow the rural economy."
It would "consider the views" of the committee and give a formal response "in due course", the spokesperson added.