Stop squabbling, UK minister tells European Union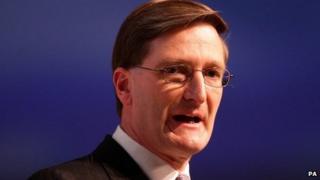 The European Union must stop internal "squabbling and jockeying for position" if it is to improve, the government's chief legal adviser has warned.
Attorney General Dominic Grieve accused the European Commission of "by-passing" the wishes of member states and said Brussels was suffering "turf wars".
The council had shown "arrogance" in pushing for pay rises for EU officials in a time of austerity, Mr Grieve said.
He added that the EU's democratic accountability had to be enhanced.
Mr Grieve gave his speech to an audience of lawyers and judges in Brussels, saying: "The UK plays by the rules and we expect others to do so too."
He echoed Prime Minister David Cameron's warning about public support for the EU being "wafer thin".
'Legitimacy'
He said: "Overstepping the boundaries under the treaties undermines the very legitimacy of EU action. To put it straightforwardly, the EU should only be doing what member states signed up to.
"And if this doesn't happen, its legitimacy in the eyes of the public is undermined."
The UK has mounted a series of legal challenges in Europe and Mr Grieve warned it would "not shy away from doing so in future" if the national interest was threatened.
"The commission [can be criticised for] arrogance or aloofness, most prominently exemplified in pushing forward significant pay increases for EU officials," Mr Grieve continued.
"Like the rest of us, EU institutions have to get used to doing better with less."
The attorney general criticised the inner workings of the EU's institutions, complaining in particular about the relationship between the European Commission - made up of one commissioner from each country, but representing the EU as a whole - and the European Council - made up of heads of government or state.
He said: "There is far too much inter-institutional squabbling and jockeying for position to the detriment of the EU's ability to deliver for its people."
Mr Grieve called the commission a "repeat offender", but added that the council "should not stand by and allow its rights to be overridden; it needs to be more alert and robust in defending its rights. Those rights are there for good reason."
David Cameron has promised a referendum on whether to leave the EU by the end of 2017 if the Conservatives win the 2015 general election.
Mr Grieve said he and the prime minister both wanted the EU to be a "success", but added that "European citizens do not care about these turf wars, whoever participates in them, and most think less of European politicians and officials for seeming to care about little else".