Nick Clegg: No economic recovery without Lib Dems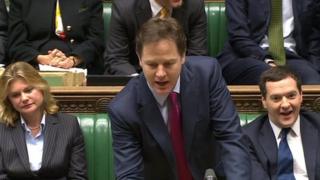 "Without the Liberal Democrats there wouldn't be a recovery," Deputy Prime Minister Nick Clegg has told MPs.
Mr Clegg was standing in for PM David Cameron, who is leading a trade delegation to China, at his weekly Commons question session.
The suggestion prompted uproar among MPs, forcing the Speaker to intervene.
Labour's Harriet Harman had accused Mr Clegg of being "the very best deputy a Conservative prime minister could ever wish for".
But Mr Clegg hit back, accusing the opposition party of having gone on "a prawn cocktail offensive sucking up to the banks which created the problem in the first place".
Struggling to be heard above the jeering of hostile MPs, he conceded that the Conservatives and Liberal Democrats had their "differences".
But he added: "No-one on this side of the House would have broken the British economy in the first place."
Neither would they "simply say to our children and our grandchildren: 'You can pay off this generation's debts,'" he continued.
Ms Harman, standing in for Labour leader Ed Miliband, said: "He talks about the recovery, and there might be a recovery for the rich, but for everybody else there's a cost-of-living crisis.
"He won't stand up to the powerful, and he won't stand up for the weak, but when it comes to being a loyal deputy to a Tory prime minister, he'll go to any lengths, break any promises, and sell out any principles."