Commons clash over Universal Credit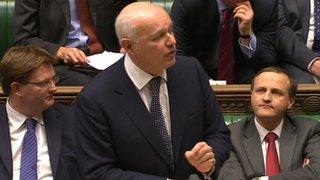 The government is prioritising the "safe and secure" delivery of Universal Credit, Work and Pensions Secretary Iain Duncan Smith has told MPs.
The £2bn project to simplify the benefits system has been beset by problems and £40m of expenditure on IT systems has been written off.
Answering an urgent question in the Commons, Mr Duncan Smith said it was a "major and challenging reform".
Labour said the project had effectively been delayed by two years.
Universal Credit will consolidate six working-age benefits into a single payment - a process designed to encourage incentives for work and to reduce fraud which ministers say will bring £38bn in long-term benefits.
'On time'
Mr Duncan Smith has insisted the flagship project is on track despite acknowledging that 700,000 people will not be moved onto the new system, as planned, by the end of 2017.
He told MPs that the project would be "essentially on time" - with 6.5 million people receiving the new single benefit by the deadline.
He suggested Labour wanted to "rush" the scheme and this risked repeating mistakes made by the last government in its handling of tax credits - when millions were lost to fraud.
"Universal Credit will roll out without damaging a single person while also delivering massive benefits," he said.
He defended spending to date on software, arguing that the decision to "write off" about £40m of investment was a standard acknowledgement that its value would depreciate over time, not that it was worthless.
'Whole-hearted support'
But Labour's shadow work and pensions spokesman Rachel Reeves said a further £90m could be written off by 2018, throwing into doubt the viability of the existing IT system.
Claims that the project would be delivered on time and budget were simply not borne out by the facts, she added.
"The underlying problem is that the secretary of state has not resolved key policy decisions before spending hundreds of millions of pounds of taxpayers' money on an IT system," she told MPs.
"The secretary of state is in denial. Until he fesses up, no-one will have any confidence in his management of the programme."
Labour MP Glenda Jackson said the secretary of state owed an apology to those who relied on the state for support.
But Tory David Ruffley said the minister had the "whole-hearted support" of his Conservative colleagues for changes which he said would be the "most beneficial" since the establishment of the welfare state.
Speaking later in the Lords, welfare minister Lord Freud said 90% of those currently claiming Universal Credit were doing so online and 78% of those were "comfortable" with receiving payments on a monthly basis.
But former Labour minister Lady Hollis warned of problems while the new IT system was bedding in and said there needed to be a "backup" paper trail for claims to ensure those who were entirely reliant on the state for their income were not affected during the transitition.
"If the minister is wrong on this, they will go hungry," she said.
Meanwhile, in its annual analysis of the DWP's accounts, the National Audit Office restated its concern that expenditure on the programme to date has not proved value for money and financial controls must be improved.
"The underlying issue is that the department has written off £40.1 million on assets it will now never use and spent a further £91m on assets that will support only a limited service for five years, with clear consequences for public value," said the watchdog's head Amyas Morse.