Lib Dems hit back after PM's 'little black book' remarks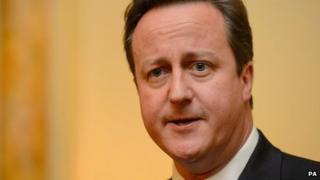 The Lib Dems have defended their record in government after David Cameron said he maintains a "little black book" of policy ideas they have blocked.
In an interview with the Spectator magazine, Mr Cameron said "we could go further" in areas such as welfare reform and the EU.
But the Lib Dems claimed they were keeping their coalition partners "anchored in the centre ground".
The party suggested what might be on the PM's list in a series of tweets.
Mr Cameron told Spectator editor Fraser Nelson: "Increasingly, today, I feel very strongly and see very clearly the case for more accountable, more decisive and active government.
"I think we could go further on welfare reform, to sharpen work incentives and get more people out of poverty.
"I think that on the European question I can see very clearly now what needs to be done in terms of our relationship with Europe, in terms of the European Convention on Human Rights and the way the Human Rights Act works.
"I can see when it comes to building a pro-enterprise economy how we go further and faster on backing entrepreneurship, cutting business taxes, getting our economy moving."
He added: "I don't believe that you succeed in government by sitting around whingeing about what you can't do."
But he concluded: "There's a good list of things I have put in my little black book that I haven't been able to do which will form the next Tory manifesto."
The official Lib Dem press office Twitter account said its party's achievements in government included blocking "inheritance tax cuts for millionaires" and stopping the Conservatives from "bringing back O Levels and a two-tier education system, [and] profit-making in schools".
Conservatives had also been prevented from altering childcare ratios, allowing bosses to fire workers "at will", penalising public sector workers in the north of England, scrapping housing benefit for young people, "ditching" the Human Rights Act, and weakening protections in the Equalities Act, it suggested.
The Lib Dems were instrumental in continuing debate on the UK's Trident nuclear weapons programme, blocking the continued use of vans displaying posters which told illegal immigrants to "go home", and preventing changes to constituency boundaries which were designed to make them more equal in size, it continued.
Finally, it said, they had also blocked Conservatives from "holding back green energy, stopping teachers teaching children about tackling climate change", and bringing in "the Snoopers' Charter".
"It's just as well the Liberal Democrats are here to keep the government anchored in the centre ground," the press office argued.