Unite trade union urges Labour not to dilute its voting strength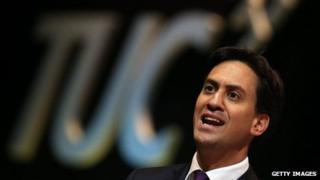 Britain's biggest trade union has told Ed Miliband it "cannot accept" any move to dilute its voting strength at the Labour Party's annual conference.
Unite said its "collective voice" must be preserved, even if fewer of its members sign up to Labour in future.
But it did not challenge the party's plan to end the automatic payment of fees from union members to the party.
Its comments came in a submission to the Collins review, which is examining the link between Labour and the unions.
A special Labour Party conference in the spring of 2014 is expected to debate the review's conclusions.
In September, Mr Miliband urged unions to have "the courage to change", as he advocated the removal of the automatic payment of fees by millions of their members to the Labour Party.
The Labour leader wants to give people the choice of "opting in" to become full Labour members when they join a Labour-supporting union.
He said this "historic" change would strengthen the party's chances at the 2015 general election through the recruitment of more motivated grassroots activists.
"Unite welcomes any measures which increase the involvement of individual trade unionists in the Labour Party," the union said.
"However, it cannot support any proposal that would lead to the collective voice of Unite being expressed solely through individual Unite members scattered across the constituency parties, nor can it accept any diminution of the trade union vote at either Regional or National Conferences (ie 50% at the latter)."
Unite is currently labour's largest donor, having given the party more than £750,000 pounds in the third quarter of 2013.
Conservative Party chairman Grant Shapps said: "If Ed Miliband bows to this latest demand from his biggest paymaster, then it will truly show he's too weak to stand up for hardworking people and too weak to stand up for Britain."
It was previously not thought likely that the ability of union leaders to cast votes on the behalf of their members at the party's annual conference - the so-called "block vote" - would be addressed until after the 2015 general election.