The ex-MPs who died in 2013 - part one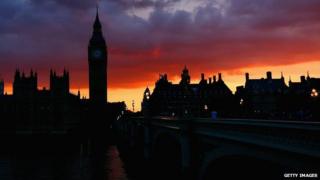 The death in April of pioneering Conservative PM Baroness Thatcher may have marked the end of an era, but she was not the only former UK MP to pass away this year. (Part two and part three)
Norman Atkinson, 25 March 1923 - 8 July 2013
The son of a bus driver who died when he was five, Atkinson became an apprentice toolmaker draughtsman at the electrical engineering firm of Metropolitan-Vickers at 15, according to his obituary in the Guardian.
Elected to represent Labour on Manchester city council in 1945, aged just 22, he endured two thwarted attempts to enter Parliament in the 1950s, before triumphing in Tottenham, north London, in 1964 - a seat he held for 23 years.
Atkinson spearheaded Labour's criticism of its then Chancellor Denis Healey during the mid-1970s economic crisis, his obituary in the Telegraph recorded.
He subsequently turned down a government post under James Callaghan, feeling more at ease on the backbenches, the Guardian added.
Instead, he became Labour Party treasurer in 1976, but was ousted in 1981 after backing Tony Benn's unsuccessful campaign for the deputy leadership.
He was eventually deselected as the future candidate in his constituency, leaving Parliament in 1987.
Stan Crowther, 30 May 1925 - 10 March 2013
Crowther, originally a journalist, became the Labour MP for Rotherham in June 1976 and served until his retirement in 1992.
He had been mayor of Rotherham between 1971 and 72.
A fierce defender of the heritage of his home town, he was awarded the Freedom of the Borough of Rotherham in 2009.
James Dickens, 4 April 1931 - 5 April 2013
Despite leaving school at 14 to become a telegraph boy and then a railway clerk, Dickens returned to the education system and eventually won a BA in politics and history from Oxford, according to an erstwhile colleague, ex-Labour MP Stan Newens, who wrote the Guardian's obituary for Dickens.
He became an industrial relations officer at the National Coal Board, before serving on Westminster council between 1962 and 1965, and entering Parliament as the Labour MP for West Lewisham in 1966.
His obituary in the Telegraph described him as an articulate critic of his party's attempts to stabilise the economy with spending cuts, which he saw as self-defeating.
Dickens played a prominent role in the left-wing Tribune Group of MPs, but after losing his seat in 1970 - by just 760 votes, to future Conservative minister John Selwyn Gummer - Dickens returned to industrial relations in a variety of posts including at the National Freight Corporation and the National Water Council.
He quit the Labour Party after the outbreak of war with Iraq, Newens reported.
Lord Fraser of Carmyllie, 29 May 1945 - 22 June 2013
Called to the bar at 25, Lord Fraser became Conservative MP for Angus in 1979.
PM Margaret Thatcher appointed him solicitor general for Scotland in 1982, and after he lost his seat to the SNP in 1987 he was made a life peer and became lord advocate.
As Scotland's top prosecutor, he had ultimate responsibility for the investigation into the Pan Am 103 Lockerbie bombing, which caused the deaths of 270 people.
Lord Fraser was also minister of state at the Scottish Office from 1992 to 1995 and served as a minister at the Department of Trade and Industry and the Department of Energy.
He was shadow Deputy Leader of the House of Lords but quit in protest after then party leader William Hague sacked Lords leader Viscount Cranborne in a dispute over the retention of hereditary peers in 1998.
In 2003, he presided over the official inquiry into the massive costs of, and delays in building, the Scottish Parliament.
Lord Gilbert, 5 April 1927 - 2 June 2013
The Telegraph's obituarist recalled a "lean, magisterial" ex-banker with a private pilot's licence who dressed in style and owned an Aston Martin convertible.
Gilbert was elected MP for Dudley in 1970, and made his name as a formidable scrutineer on select committees, notably during the Defence Committee's hearings into the Westland affair.
He was also able to tease out of Shell executives the admission that their own, "better", petrol was frequently bought from a competitor, the Telegraph said.
Harold Wilson appointed him Financial Secretary to the Treasury after Labour's return to power in 1974, when he introduced index-linked savings certificates. He went on to win promotion as a transport minister in 1975 and then as a defence minister in 1976.
"Gilbert made quite an impression at Transport," the Telegraph said. "He advocated the compulsory wearing of seat belts (failing to get a Bill through), emission and noise checks and stiffer penalties for drink-driving; he also christened London's embryonic orbital motorway the M25."
At the MoD, according to the Guardian's obituary, he had unsuccessfully tried to sell old warships to Argentina and announced an expensive Polaris improvement, and later rejected the party's move to the left in opposition as one of 20 MPs who refused to vote against the nuclear deterrent in 1981.
An appointment to the House of Lords in 1997 heralded a return to ministerial office at the MoD.
Despite Gilbert's achievements, he had his detractors. In an obituary for the Independent, ex-Labour MP Tam Dalyell said he had been "grossly overrated as an inquisitor. He was insufferably arrogant with witnesses to no great effect and seldom ascertained the truth".
Peter Griffiths, 24 May 1928 - 20 November 2013
This entry contains some strong language.
Griffiths became Conservative MP for Smethwick in 1964, ousting a high-flying Labour MP, who Harold Wilson had wanted to make foreign secretary, in a rancorous campaign associated with the slogan "If you want a nigger for your neighbour, vote Labour".
The Telegraph's obituary said he had denied using the phrase, despite his "robust" views on immigration.
But Wilson vented his fury at the "the utterly squalid campaign of the Smethwick Conservatives" in his first Commons speech as PM in 1964, describing Griffiths as a "parliamentary leper".
Griffiths, a former headmaster, returned to academia after being unseated in 1966.
But he contested Portsmouth North for the Conservatives in 1974 and took the seat in 1979, holding onto it until the 1997 Labour landslide.
He "made little impact" in those 18 years, the Telegraph concluded, "never quite living down the extraordinary epithet with which Wilson had branded him".
Lord Hayhoe, 8 August 1925 - 7 September 2013
"A sensitive and humane man, genial and outgoing", Hayhoe had "scarcely an enemy to his name", the Independent's obituary said.
He had been a tool room apprentice before landing a job in the Ministry of Supply's armaments design department, which he held for 10 years until 1954.
After a stint in the Conservative research department, he was elected MP for Heston and Isleworth in 1970 and stayed in the Commons until 1992.
His background in munitions proved to be useful in a junior ministerial post at the MoD after the Conservatives regained power in 1979, where he took a "keen interest in weapons quality", according to the Independent.
Promotions to the Civil Service Department, the Treasury and the Department of Health, where the Telegraph said he oversaw the stark public information campaign warning of the dangers of Aids, followed.
But, according to the Guardian, his career prospects were hampered "as a liberal, pro-European Conservative during the years of Eurosceptic domination of his party".
He entered the Lords in 1992, serving on the Select Committee on Public Service, and chaired the Guy's & St Thomas's NHS Trust from 1993 to 1995.
Charles Longbottom, 22 July 1930 - 5 February 2013
A thrusting Longbottom visited 12,000 houses in an 18-month campaign ahead of the 1959 election - exhausting his older colleagues, according to the York Press's obituary.
After taking York for the Conservatives, aged 29, he campaigned for the establishment of a university in York, a plan which came to pass four years later.
But ironically, according to the Telegraph's analysis, the city's new academic community was drawn to his Labour opponent, the radical barrister Alex Lyon, who won the seat in 1966.
Longbottom went on to enjoy a successful career in shipbuilding and banking, alongside stints on the BBC's general advisory council and the Community Relations Commission.
Part two will be published tomorrow.