Clegg: EU migrant cap would be "serious trouble" for NHS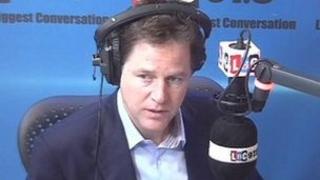 Nick Clegg has said a cap on the number of EU migrants to the UK would leave the NHS "in serious trouble".
The Lib Dem leader also claimed it would damage the economy with the City of London "undermined overnight".
Some jobs in the medical profession are on the UK Border Agency's "shortage occupation list", which means there are not enough UK workers to fill jobs.
Mr Clegg has criticised leaked Home Office proposals for a cap on EU migrants of 75,000 a year.
The deputy prime minister stressed that EU migration was "a two-way street" with "about two million Brits living and working" elsewhere in the EU.
Mr Clegg backed restricting EU migrants' access to benefits, saying that other EU states planned similar measures.
Downing Street has said that new rules on how long EU jobseekers will have to wait to claim benefits are to be brought in by 1 January.
Speaking on his weekly LBC radio phone-in show, Mr Clegg rejected a caller's allegations that ministers had no control over who enters the UK.
"We're basically not allowing people on low skills from non-EU countries to come in," he insisted.
He added that, even for EU citizens, "the right to come to the United Kingdom to look for work is not the same as the right to claim".
He suggested that UK citizens living elsewhere in the EU would not "thank the Conservative Party" if they faced restrictions in return.
Mr Clegg has previously described the leaked proposals as "illegal and unworkable".
Home Secretary Theresa May has claimed there is growing concern over the "abuse" of free movement in the EU.
Mrs May said she was "not proposing to introduce such a cap now" but there was a "possibility of reform in the future".
Labour leader Ed Miliband said what was needed was not "leaks and half-baked proposals" but "real measures to reassure people over immigration" such as requiring firms to advertise jobs in the UK.
UK Independence Party leader Nigel Farage argued that the government could not impose a cap under EU rules and "the only way to achieve this would be to leave the European Union".