The ex-MPs who died in 2013 - part two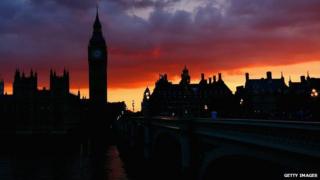 The death in April of pioneering Conservative PM Baroness Thatcher may have marked the end of an era, but she was not the only former UK MP to pass away this year. (Part one and part three)
Helen McElhone, 10 April 1933 - 5 June 2013
McElhone was elected Labour MP for Glasgow Queen's Park in a by-election called when her husband, the previous incumbent and a former greengrocer, died after a heart attack.
He had been on a march through Glasgow in defence of the NHS at the time, according to the Telegraph's obituary.
It was known that the seat was to be abolished at the next election, which came just over six months later, in June 1983.
She had campaigned as a "Glasgow housewife determined to look out for her own folk", and had had no desire to "aim for the top of the political tree", the Herald's obituary said.
During her short tenure as an MP, McElhone concentrated on improving the standard of social housing in her constituency.
After an unsuccessful bid to stay in Parliament as the MP for the new Glasgow Central constituency, the Herald reported, she devoted her "considerable" energies to local government, winning a seat on Strathclyde Regional Council in 1985 and become vice-chairman of its finance committee in 1987.
Eddie McGrady, 3 June 1935 - 11 November 2013
A former chartered accountant, McGrady sat on Downpatrick Urban Council in the 1960s and early 1970s, and then on Down District Council until 1989.
He was also a member of the Northern Ireland assemblies in existence in the 1970s and 1980s, and a member of the current assembly between 1998 and 2003.
McGrady, a co-founder of the SDLP, gained national prominence on election night in 1987, when - at his fourth attempt - he defeated Enoch Powell, who had been Ulster Unionist MP for South Down since 1974.
As an MP he was known as an opponent of the Sellafield nuclear plant and a defender of the Downe Hospital.
Allen McKay, 5 February 1927 - 2 May 2013
McKay had worked in mining and the steel industry, and then industrial relations, before entering Parliament as the Labour MP for Penistone at a by-election in 1978.
He held the successor seat of Barnsley West and Penistone, which was created at the 1983 general election, until 1992.
Bruce Millan, 5 October 1927 - 21 February 2013
A Dundee-born chartered accountant, Millan was first elected as the Labour MP for Glasgow Craigton in 1959 and went on to serve in both the Wilson and Callaghan governments, winning respect for his "integrity, decency and thoroughness", according to the Scotsman's obituary.
After a spell as a junior defence minister from 1964 to 1966, he moved to the Scottish Office. He kept the Scotland brief for the rest of his parliamentary career, rising to secretary of state in 1976, and is remembered in the Scotsman for having helped to establish the Barnett formula for allocating public spending in Scotland.
After his seat was abolished in 1983, Millan went on to represent Glasgow Govan at Westminster until 1988, when Labour leader Neil Kinnock put his name forward for an EU commissioner.
He went on to spend six years in the role of European Commissioner for Regional Policy and Cohesion.
The Scotsman said that, although he had been "an unusual mandarin of Brussels, feeding on sandwiches and working late into the night on the detail of policy", his appointment had been "inspired".
He succeeded in creating "a sustainable structure for a Europe of the Regions, narrowing the gaps between rich and poor", the paper explained.
Millan also went on to chair a committee on reforming mental healthcare in Scotland.
Ernle Money, 17 February 1931 - 14 April 2013
In 1970 Money took Ipswich for the Conservatives after 32 years in Labour hands, defeating Dingle Foot, the elder brother of future party leader Michael, by just 13 votes.
He compounded the surprise of the political classes by defying the national trend and hanging on to the seat at the February 1974 election - though he lost it in the poll the following October.
The Ipswich Star's obituary said his lasting achievement was the creation of a by-pass around the town.
His immediate successor and erstwhile opponent, Labour's Ken Weetch, told the paper: "It was quite a struggle to keep the by-pass in the government programme before work started - but it was much easier than getting it accepted in the first place. For that Ernle deserves a great deal of credit."
Aged 79, he campaigned for current Ipswich MP Ben Gummer at the 2010 general election. "The older voters all remembered him very fondly," Mr Gummer told the Ipswich Star.
Sir Fergus Montgomery, 25 November 1927 - 19 March 2013
A Conservative MP for more than 30 years, Montgomery earned the rare distinction of serving three different constituencies in three different parts of the country: Newcastle upon Tyne East from 1959 to 1964, Brierley Hill from April 1967 to February 1974, and Altrincham and Sale from October 1974 to 1997.
His obituary in the Times described him as a "devoted follower of Margaret Thatcher", but he did not attain a more prestigious post as an MP than parliamentary private secretary.
From a modest background in Jarrow, Montgomery expressed "authoritarian right-wing views" that would "make today's Conservative modernisers shudder", having praised Enoch Powell's stance on immigration, the Independent said.
Thatcher had stood by him in 1977, the Times reported, when he was charged with stealing two books from the Army & Navy Stores - he was cleared after arguing that he had acted under the influence of over-prescribed slimming drugs.
A "keen theatre-goer", Montgomery counted Betty Driver, Barbara Windsor, John Barrowman, John Inman and Dame Shirley Bassey among his friends and was affectionately known as the "Member for the West End", the Times added.
"The actress Beryl Reid even named an ornamental frog after him," it claimed.
He was also a "prominent member of the Tory campaign for homosexual equality", the paper said, being one of seven rebel Conservative MPs who voted to prevent plainclothes policemen from attempting to entrap homosexuals.
Sir Morgan Morgan-Giles, 19 June 1914 - 4 May 2013
A Conservative MP of the old school, and a much-decorated hero of the Second World War, Rear-Admiral Sir Morgan Morgan-Giles, was a colourful, and genial, presence on the Commons benches in the sixties and seventies.
He was mentioned in dispatches four times during the war and awarded the George Medal for "gallantry and undaunted devotion to duty" during bomb and mine disposal, according to his Daily Telegraph obituary.
Sir Morgan, who died aged 98, was also awarded a DSO for "courage, outstanding leadership and devotion to duty" during an attack on the Croatian island of Lussino.
When he got up to speak in the Commons, he was often greeted affectionate cries of "Send a gunboat" from the Labour benches.
He campaigned tirelessly for greater pay for sailors but always from the backbenches - his support for Enoch Powell's stance on immigration and support for rebel Rhodesian leader Ian Smith precluding a front bench career under Edward Heath.
"Looking back over the past 15 years that I have been in the House, I find it horrifying to see the way in which Britain's power and influence for good in the world have been diminished," he said in his farewell speech to the Commons in 1979.
Lord Northfield, 25 November 1923 - 18 April 2013
Donald Chapman adopted the name of Northfield, the Birmingham constituency he had represented for 19 years, when he became a peer in 1975.
A grammar school boy who took degrees in economics and agriculture at Cambridge, Chapman served on Cambridge City Council while he continued his research in the field.
He had taken an administrative position in the Labour Party in 1945, and in 1951 won his Commons seat.
According to his Telegraph obituary, he took a special interest in immigration, visiting Kingston to find out what was drawing Jamaican immigrants to his home town.
He also became an animal welfare campaigner, persuading the then agriculture minister to regulate the trade in horses from Ireland after witnessing their ill treatment, and exposing the illegal slaughter of horses in sight of carcasses, the Telegraph said.
"A bright political future was predicted for him, but he soon could not afford to become a minister," the Telegraph reported.
Instead, he focused on his business interests, which included property development, and served as a special adviser to the European Commission from 1978 to 1984 and as the chairman of the Rural Development Commission from 1974 to 1980.
He was also a staunch campaigner against fluoridation of the water supply.
Part three will be published tomorrow.