The ex-MPs who died in 2013 - part three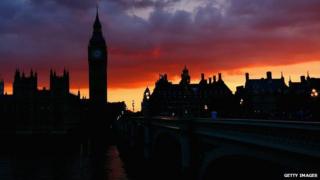 The death in April of pioneering Conservative PM Baroness Thatcher may have marked the end of an era, but she was not the only former UK MP to pass away this year. (Read part one and two)
Wilfred Proudfoot, 19 December 1921 - 19 July 2013
Proudfoot, a supermarket entrepreneur turned Conservative MP turned pirate radio manager turned hypnotist, was born in Crook, County Durham, where he worked in a local self-service grocery shop run by his father, according to his Yorkshire Post obituary.
He borrowed money from family members, adding funds he received after serving in the RAF, and bought a former foundry building in Seamer, near Scarborough, turning it into a supermarket, where he applied the self-service model to a larger scale, the Yorkshire Post said.
Over 30 years, he built up a chain of 15 supermarkets, the Telegraph's obituary reported, and was "elected a councillor in 1950, despite urging his supporters to vote Liberal to keep out the Labour candidate". He chaired Scarborough Town Council's health committee from 1952 to 1958.
He became an MP on his third attempt, winning Cleveland for the Conservatives in 1959.
His subsequent campaign for currency reform earned him the nickname "Decimal Proudfoot", the Telegraph said.
Despite a stint as parliamentary private secretary to Sir Keith Joseph, then Minister of Housing and Local Government, he lost his seat in 1964.
A year later, he led a consortium to set up a pirate radio station off Scarborough, called Radio 270, on board a 150-tonne fishing vessel, the Yorkshire Post said.
But this enterprise was brought to an end in 1967 after the passing of the Marine Broadcasting Offences Act into law. "If we'd had another year we would have made a profit," he reportedly commented.
Proudfoot returned to the Commons in 1970, winning Brighouse and Spenborough by a tiny majority, and then losing it to the previous Labour incumbent in 1974.
In the intervening period, he had focused on broadcasting issues, according to the Telegraph, criticising the BBC's provision of programmes for immigrants as inadequate and campaigning for a trial period of broadcasting from Parliament.
He underwent cosmetic surgery in California "to enhance his chances of getting back into Parliament", according to his Times obituary.
But, political ambitions frustrated, Proudfoot reinvented himself as a hypnotist. The Telegraph reported that he said it could cure "anything from nail-biting to tennis elbow".
Proudfoot was, the Times concluded, "a versatile man of strong entrepreneurial instincts and not a little showmanship".
Lord Roberts of Conwy, 10 July 1930 - 14 December 2013
The son of a manse in north Wales, Roberts served for 15 years as a junior Wales Office minister under four Conservative secretaries of state and two prime ministers.
After winning a scholarship to Harrow and completing his national service, Roberts was posted to Vienna as a member of the intelligence corps before going to Oxford, where he had a history scholarship.
He trained as a newspaper reporter in Liverpool before starting work in broadcasting, first as a journalist for BBC Wales and later in independent television.
But Roberts gave up broadcasting for politics and won the marginal seat of Conwy from Labour in 1970, holding it until he retired from the Commons in 1997.
After Margaret Thatcher won the 1979 election, he was made undersecretary of state in the Welsh Office where his responsibilities included the Welsh language - his native tongue.
The campaign for a Welsh-language television channel, which included the threat of a hunger strike by the former Plaid Cymru MP Gwynfor Evans, eventually succeeded "in part as a result of pressure from Roberts", according to his obituary in the Telegraph.
Despite speculation that Roberts would be promoted to secretary of state in the run up to the 1987 election, the Telegraph added, "the thoroughly English [Peter] Walker got the job, making Roberts's background of even greater value".
Activists branded his Welsh Language Bill "feeble and inadequate", according to the Telegraph, but it reached the statute book in 1993, placing a duty on public bodies and the courts in Wales to treat Welsh and English equally.
Roberts served as an opposition spokesman on Welsh affairs in the Lords until 2007, and let a review of the Conservatives' policy towards devolution in 2008 which paved the way for creation of the Silk Commission into the Welsh settlement.
Tony Speller, 12 June 1929 - 15 February 2013
Speller's dream of a career in the army was dashed in a car accident that injured his arm and shoulder, according to the North Devon Journal's obituary.
Instead, in 1952, he travelled to Nigeria, then still a colony, to market local produce for the UK government, before going into business.
After returning to Exeter, where he had taken a BA in social studies - one of two undergraduate degrees - Speller launched a photocopying business in 1963, and joined the city council.
Contesting Devon North for the Conservatives in 1979, his second attempt, Speller succeeded in ousting the former Liberal leader Jeremy Thorpe, who would subsequently stand trial on charges of conspiracy to murder. Thorpe was acquitted.
Although he was to the right of his party, his Times obituary noted, Speller "campaigned for alternative energy and came under attack in 1990 for suggesting that Exmoor was an ideal site for windfarms".
He served on the Commons energy committee from 1982 to 1988 and chaired the all-party alternative energy group from 1984 to 1992, when he lost his seat to Lib Dem Nick Harvey.
Speller fought the closure of the Barnstaple-Bideford railway line and the dumping of sewage in the Bristol Channel, the Times said.
"One of his crowning legacies," according to a former local Conservative official quoted in the North Devon Journal, "was securing the construction of the long awaited North Devon Link Road".
Andy Stewart, 27 May 1937 - 6 October 2013
Born in Lanarkshire to a farming family, Stewart moved south at 24 to buy a 200-acre farm near Newark after graduating from the West of Scotland Agricultural College.
"He proved an astute farmer and expanded into both arable and livestock," according to his obituary in the Scotsman.
After being active in local politics, he contested the new seat of Sherwood, which had a large working-class population, at the 1983 election.
"Few gave him a chance, even when the Conservatives opened up a big national lead over Labour", the Telegraph's obituary said, but he won with a slim majority of 658 votes after running what the Scotsman described as an "imaginative campaign".
But his popularity soared in Sherwood after he backed the thousands of local miners refused to join the NUM-led strike.
"Despite his closeness to local miners, Stewart made no bones about being on the Right of his party, voting for the death penalty, supporting sporting links with South Africa and continually baiting Arthur Scargill," the Telegraph added.
He greatly increased his majority in 1987, and became a parliamentary private secretary, but lost his seat in 1992.
Stewart returned to his farm, and served on the local county council until as recently as May this year.
Sir Cyril Townsend, 21 December 1937 - 20 November 2013
A globe-trotting officer with the Durham Light Infantry who had studied at Sandhurst and saw active service in Cyprus in 1958 and Borneo in 1966, Townsend became an advisor to then opposition leader Ted Heath in 1968.
After a spell in the Conservative Research Department, he stood in the 1974 general election for Bexleyheath, a new constituency. His Times obituary recorded that it was thought to be a marginal seat, but Townsend won it comfortably, and held it until 1997.
As the Conservatives took power in 1979, Townsend served briefly as a parliamentary private secretary to then social security minister Reg Prentice, but resigned over "curbs on the immigration of Asian fiancés", according to his obituary in the Independent.
Although a defender of the Trident nuclear weapons system, Townsend was "independent-minded", relatively liberal, and "never likely to obtain office from Mrs Thatcher", the Independent added.
He joined the Commons foreign affairs committee in 1982, but was ousted in 1983 after criticising government policy on the Falklands.
Townsend demonstrated a strong interest in foreign affairs throughout his career. He was "something of an idealist over Europe", the Independent said, and a "convinced supporter of the Palestinian cause".
On the domestic front, he focused on preventing the abuse of children, and brought forward the private member's bill which became the Protection of Children Act 1978.
He was knighted on leaving Parliament in 1997.
David Watkins, 27 August 1925 - 23 August 2013
Educated at Bristol's Merrywood Grammar School, Watkins returned to the city of his youth after completing national service in the RAF and served on its council from 1954 to 1957.
He stood unsuccessfully in the constituency of Bristol North West for Labour in 1964, but won Consett in 1964 and held it until 1983.
Watkins sponsored two private members' bills to reach the statute book: the Employers Liability (Compulsory Insurance) Act 1969 and the Industrial Common Ownership Act 1976.
After leaving the Commons, he worked from 1985 to 1990 on the UN Meeting of Non-Governmental Organisations on Question of Palestine and ran the Council for the Advancement of Arab-British Understanding from 1983 to 1990.
Jimmy Wray, 28 April 1938 - 25 May 2013
Wray represented Glasgow Provan and then Glasgow Baillieston for Labour for a total of 18 years, spanning 1987 to 2005.
Before standing for Parliament, he served as a councillor in the city of Glasgow and on Strathclyde Regional Council.
Wray was one of a family of nine and grew up in the Gorbals area of Glasgow.
The Guardian's obituary described him as both a "man of the left" and a "lifelong entrepreneur and close friend of the boxing fraternity".
"His main political interests lay in countering the ills that most acutely affected the wellbeing of his constituents: poverty, drug abuse and knife crime," the Guardian added, citing his successful piloting through Parliament of a private member's bill which restricted the sale of knives.
He was also a staunch campaigner against fluoridation of the water supply.
Sheila Wright, 22 March 1925 - 5 July 2013
Wright represented Labour on Birmingham City Council between 1956 and 1978 and on the West Midlands County Council between 1973 and 1981.
She also served as a social worker from 1957 to 1974, before winning election to the Commons in 1979 and representing Birmingham Handsworth until 1983.