Sherlock allowed to mock me - Boris Johnson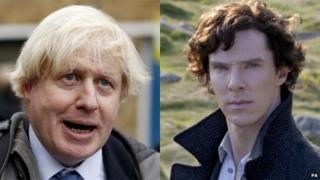 London Mayor Boris Johnson has laughed off an apparent joke at his expense on the BBC show Sherlock, saying it is "perfectly acceptable for people to satirise politicians".
In the latest episode of the hit detective series, a mock newspaper headline stated the Thames was to become a "watery highway".
The story quoted the "current mayor" as backing the scheme, shouting "Huzzah".
Mr Johnson told LBC Radio 97.3 people were "entitled to make fun" of him.
The BBC said the mayor and newspaper mentioned in the show were "entirely fictional".
Conservative Mr Johnson, who supports building a new airport in the Thames estuary, seemed to be the butt of a joke on Sherlock on Sunday, according to the Daily Telegraph.
A newspaper page, flashed on screen at the start of the show, included an article saying that plans to turn part of the Thames into a motorway came after other "bizarre concepts", including a "recently mocked concept of putting an airport in the middle of the estuary".
Might it be Ken?
Mr Johnson was not mentioned by name, but he said, during the Nick Ferrari call-in show on LBC: "Everybody's entitled to make fun. If someone can't make fun, that's wrong."
He added: "I think it's perfectly acceptable for people to satirise politicians, and there you go."
But Mr Johnson queried whether the report referred to his Labour predecessor, Ken Livingstone, who had also looked into the possibility of building a new airport for London.
He said: "I don't rule out the possibility that this is an attack on the previous mayor."
A BBC spokeswoman said: "Sherlock is a fictional drama series. Both the newspaper and mayor featured in the episode were entirely fictional and were not named or politically affiliated."
During his appearance on the radio show, Mr Johnson made cracks at the expense of Deputy Prime Minister and Liberal Democrat leader Nick Clegg.
He said: "I don't want to get into some endless ding-dong with poor old Cleggers."
But Mr Johnson proceeded to call him a "lapdog who's been skinned and turned into a shield" for Prime Minister David Cameron.
Sherlock, starring Benedict Cumberbatch as the eponymous detective and Martin Freeman as his sidekick Dr John Watson, is currently in its third series. The next episode will be broadcast on BBC One at 2030 GMT on Sunday.