Nick Clegg: Lib Dem-Labour 'love-in' reports are hype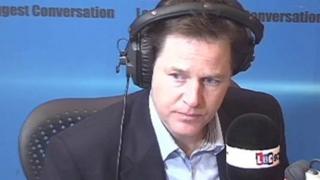 Deputy PM Nick Clegg has said a recent "passing friendly conversation" he had with shadow chancellor Ed Balls was no "great act of political significance".
Since Mr Balls revealed that the talk had taken place, there has been speculation about the prospects of a Lib Dem-Labour coalition after the next general election, due in 2015.
The Sun said the talk and subsequent exchanges of tweets were a "love-in".
But the Lib Dem leader said this was a "completely ridiculous" interpretation.
On his weekly LBC radio phone-in show, the deputy PM said: "Listen, Ed Balls confessed to the fact that he and I had a passing friendly conversation in the House of Commons.
"If this is now being interpreted as some great act of political significance then we're reaching new heights of hype."
'Lapdog'
He said that he tried and sometimes failed to "always in politics be civil and polite, but be tough and not personalise stuff, be very trenchant where I disagree with people on policy".
"Of course, I fervently disagree with Ed Balls about the role that he and the Labour government played in creating the economic crisis in the first place. In the same way, he fervently disagrees with some of the choices I've made in government," he continued.
"That doesn't mean you can't treat someone like a human being."
He was also asked about London Mayor Boris Johnson's depiction of him as "David Cameron's lapdog-cum-prophylactic protection device".
"This was on my birthday. I have had nicer birthday wishes than that, I can tell you," he said.
"I'm, for once, with Ed Balls on this. I think name calling is all very passé, is all very 2013. I am going to say to Boris: Come on Boris, join Ed Balls and myself and let's have a truce.
"I do think, without sounding too pious, we've all got quite important jobs to get on with. Most Londoners would expect Boris to focus on the day job of sorting out the transport system, the housing crisis in London, rather than ever more exotic ways of describing his political opponents."
In June, Mr Clegg called Mr Johnson a "slacker" for appearing on a separate LBC radio programme monthly and not weekly, and in November dismissed the "careless elitism" he saw in the mayor's views on the link between intelligence and life chances.