Lord Rennard accused of bringing Lib Dems into 'disrepute'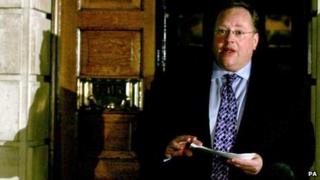 Lib Dem peer Lord Rennard is bringing his party into disrepute by refusing to apologise over claims of sexual harassment, a former special adviser to party leader Nick Clegg has said.
Bridget Harris, one of four party activists who made the allegations, which he denies, said an internal inquiry concluded he should apologise.
But his legal adviser, Lord Carlile, said that would be "quite wrong".
"There has been found to be no case against Lord Rennard," he said.
The peer resigned the party whip last year amid claims he made unwanted sexual advances to several women and touched them inappropriately.
An internal inquiry into the claims last week concluded there was broadly credible evidence dating back several years of "behaviour which violated the personal space and autonomy of the complainants".
'Absolute mess'
But it said the allegations could not be proven beyond reasonable doubt, as the party's internal disciplinary procedures required.
Mr Clegg has said the whip should not be restored to Lord Rennard until he apologises. However, party rules dictate that it is for peers to decide whether to welcome him back.
Ms Harris, who has quit the party, told the BBC: "The QC who reviewed the evidence extensively over the last couple of months actually concluded that he thought that the evidence we put forward was credible.
"It clearly did show that Lord Rennard had caused myself and the other women distress and that we were owed at the very least an apology.
"The question is, has Lord Rennard brought the party into disrepute?
"I think that everybody accepts that the Lib Dems are in an absolute mess about this and whatever the accepted definition of disrepute is, I think that we've achieved it."
Susan Gaszczak, one of the women who made the original allegations, said she would consider resigning if the whip was restored.
"I think that will make my position as a member of the Liberal Democrats quite untenable," she told the BBC News Channel.
Meanwhile, Lib Dem Euro MP Chris Davies said the episode had become "like the Salem witch trials".
"A good man has been publicly destroyed through the media", he told BBC Radio 4's Westminster Hour, adding: "It is completely out of proportion, nonsense and outrageous".
'Completely arbitrary'
Party officials are considering a new disciplinary process over disrepute claims from within the party, with Lord Rennard facing suspension again until it is complete.
Senior Lib Dem MP Danny Alexander said the party's headquarters had "had a lot of complaints from party members about the fact that no apology has been made".
This was a "very serious matter", and the "appropriate committee" would need to decide what course of action to take as a result, told the BBC's Sunday Politics programme.
He said an apology from Lord Rennard was "necessary" and it was "totally unacceptable" for that not to happen.
Alistair Webster QC, who led the original internal inquiry, said: "I viewed Lord Rennard, from the weight of the evidence submitted, as being someone who would wish to apologise to those whom he had made to feel uncomfortable, even if he had done so inadvertently."
But Lord Carlile told Sky news: "I think it would be quite wrong for Lord Rennard to apologise."
"Here we have a situation in which there has been found to be no case against Lord Rennard but he's being lined up against the wall by people who are trying to force him to apologise in a way no lawyer would advise." he said.
The peer warned that Lord Rennard would consider taking legal action against the party if the whip was not reinstated on Monday.