Forces discrimination bill backed by shadow minister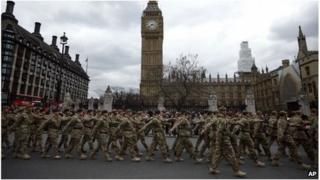 Proposals to give the armed forces more protection against discrimination have been backed by shadow defence secretary Vernon Coaker.
He said he supported a bill introduced by Labour MP Thomas Docherty on Friday.
It proposes treating acts of hostility against service personnel or their families in the same way as those due to disability or sexual orientation.
Mr Coaker said servicemen and women should be "treated with the dignity that their bravery deserves".
'Daily lives'
The bill - which ran out of parliamentary time on Friday and is now thought unlikely to be debated again - would extend the working of the Criminal Justice Act so that offences which demonstrate hostility to service personnel or families are treated as "aggravated" - as is already the case for hostility to people because of their sexual orientation or disability.
Mr Coaker said: "There are still too many members of our armed forces who face discrimination as they go about their daily lives.
"It's sad to think that those who fight for our country might need the protection of our laws, but some do.
"The government promised that it would address this in the Armed Forces Covenant Report at the end of last year, but it failed even to mention discrimination faced by members of the armed forces.
"That's why Labour is supporting a change to the law so that for the first time ever it would be a specific criminal offence to attack members of our armed forces.
"Our dedicated and committed servicemen and women should be treated with the dignity that their bravery deserves, and this will help ensure that is the case."
The Ministry of Defence points out that the question of discrimination was mentioned in the 2013 Armed Forces Covenant annual report.
However, it says, "The government do not believe that it would be straightforward or necessary to legislate in this area.
"Our view is that, in the last year or so, the extent of public knowledge and sympathy for the Armed Forces has continued to grow..
"We therefore continue to believe that education, rather than legislation, is the key to eradicating the kind of behaviour that we all abhor."
'Long overdue'
The Armed Forces (Prevention of Discrimination) Bill, would also prohibit discrimination against members of the forces in provision of goods and services.
For example, its supporters say, it would outlaw bars imposing blanket bans on service personnel.
BBC parliamentary correspondent Mark D'Arcy says that at this stage in the parliamentary year the point of these bills is less to change legislation than to highlight issues.
Mr Docherty, MP for Dunfermline and West Fife, said: "I'm grateful for the support of Labour's frontbench team led by Vernon Coaker. I hope it helps to persuade the government to act.
"My bill proposes introducing a straightforward measure that would provide long overdue protection to those brave men and women who serve our nation.
"It is only right that those who risk their lives overseas to protect our freedom are themselves protected from mindless yobs and from bigotry when they return home."