MP Liam Fox settles libel action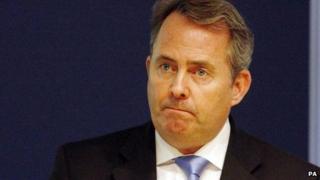 Conservative MP Liam Fox has settled a libel action after a businessman withdrew "unreservedly" words he had used about him.
The former defence secretary's complaint related to remarks made by Harvey Boulter to Sky News in 2011.
Mr Boulter's counsel said he withdrew the words and he was sorry for any "embarrassment" caused.
The libel trial had been due to start next week. Mr Fox's team said he had received damages and legal costs.
At London's High Court, Mr Fox's counsel, Jonathan Barnes, told Mr Justice Tugendhat the former defence secretary had been vindicated and was pleased there was no need for him to pursue the action to trial.
The dispute related to whether or not Mr Fox had been willing to give evidence to help Mr Boulter in a legal battle in New York.
Mr Boulter's counsel, Matthew Nicklin QC, said: "Through me, he unreservedly withdraws the words posted on Sky News's website and apologises to Dr Fox for the embarrassment and damage to his reputation those words and these proceedings have caused him."
Outside court, Mr Fox, MP for North Somerset, said: "I've always said that I told the truth and behaved ethically in the matters relating to this court case and I am very glad to be vindicated."
In a statement, Mr Boulter said: "I am very pleased that the libel suit with Dr Fox has been settled."