Cameron enjoys 'valuable' audiences with The Queen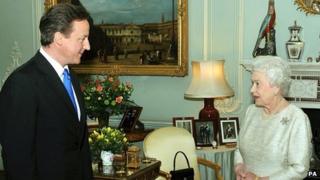 David Cameron has spoken of the value of his weekly audiences with The Queen, saying it is reassuring that she had "heard all of his problems" before.
The prime minister told BBC Radio 2 the meetings were important and he always had to be "well-informed" for them.
"You are very conscious...that I am her 12th (leader)," he told Steve Wright. "She started with Winston Churchill and she has heard it all before."
British PMs meet the Queen face-to-face every week, without advisers present.
There is no official record of what is said at the meetings, which go on for about an hour and have been taking place since 1952, but speculation about some of the encounters formed the basis of a West End play last year.
'Up to speed'
In an appearance on the Steve Wright show, the prime minister said the monarch was "always up to speed" with current political events and he had to be on his toes too.
"You have to make sure you are well-informed too if I can put it that way," he said.
He added: "I think prime ministers find it very valuable to try and explain the difficult decisions and problems the country faces in the presence of someone who has heard and seen all these problems before."
Asked whether courtiers brought the conversation to an end or whether the Queen "wrapped it up" herself, the PM said it "naturally comes to an end".
Mr Cameron is not the first prime minister to say he takes solace from the weekly audiences.
Former Conservative Prime Minister John Major said he could discuss "absolutely anything" with The Queen while Labour PM Harold Wilson famously said it was the only meeting the details of which he could guarantee would not be leaked.
In Wednesday's interview, Mr Cameron also disclosed that he tended to fall asleep while watching TV at the end of a busy day and that he was rarely recognised when he went jogging in central London.
London's parks, he said, were "mostly full of tourists who just see some middle-aged, slightly overweight man trotting past them and they just think it is another one".