Wythenshawe and Sale East by-election polls close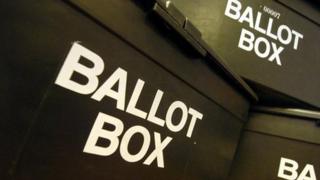 Polling has closed in the Wythenshawe and Sale East by-election, with Labour tipped to hold on to the seat.
All eyes will be on second place, with the UK Independence Party attempting to overtake the Conservatives.
The by-election was triggered by the death in January of Labour MP Paul Goggins, who had represented the constituency since 1997 and had a majority of 7,575 at the last election.
The result is expected to be announced at about 02:00 on Friday.
Wythenshawe and Sale East is considered a safe Labour seat, with candidate Michael Kane predicted to retain it comfortably.
But analysts will be closely monitoring the performance of UKIP, which has come second in several by-elections in recent months, for clues to its national level of support ahead of the European Parliament elections in May.
At the 2010 general election the party took just 3.4% of the vote in the constituency.
The Conservatives will be keen to stay in second place. The Liberal Democrats, who came a close third last time, are also expected to lose support.
Some 54.3% of eligible voters turned out in 2010, but this usually falls at by-elections, although the weather on Thursday was better than in recent days.
The candidates (in alphabetical order) were:
John Bickley (UK Independence Party)
The Rev Daniel Critchlow (Conservative)
Capt Chaplington-Smythe (Monster Raving Loony Party)
Mary Di Mauro (Liberal Democrat)
Michael Kane (Labour)
Eddy O'Sullivan (British National Party)
Nigel Woodcock (Green Party)