Chris Grayling criticised by Labour over 'spin' claims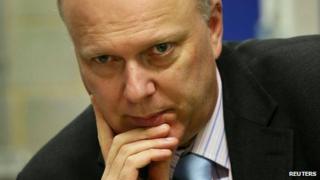 Justice Secretary Chris Grayling's department is not answering parliamentary questions properly, his Labour counterpart Sadiq Khan has said.
Mr Khan said he had received a letter from a "concerned official" complaining that Ministry of Justice (MoJ) responses to MPs' questions were vetted to ensure they were "favourable".
Officials were infuriated by the impact of "the spin machine", he reported.
But the MoJ said its answers to MPs contained all the "necessary context".
The shadow justice secretary and Labour MP for Tooting said ministerial advisers seemed to be interfering with departmental responses.
He called for a review of recent answers to his parliamentary questions, arguing they had suffered a "noticeable deterioration" in timeliness and quality.
Mr Khan said: "It appears as if I am being deliberately denied information I am entitled to.
"The only explanation is that Chris Grayling wants to hide how badly he is doing as justice secretary."
He continued: "If my answers are being manipulated for party political purposes, the public are denied the true facts. This is bad for democracy and bad for the British public."
MoJ officials preparing answers to parliamentary questions have been told to pay "particular interest" to questions in 48 areas, including prisoners in police cells, first-class rail travel, deaths in custody and ministers' personal matters, the whistleblower has reportedly claimed.
Mr Khan has written to MoJ permanent secretary Ursula Brennan to demand an investigation into the allegations made by the whistleblower and has accused Mr Grayling of politicising the department.
He said some parliamentary answers go unanswered, others receive holding answers which are not subsequently followed up.
Some answers did not address the original question, he added.
But an MoJ spokeswoman said: "Special advisers are employed to provide advice and assistance to ministers across a wide range of areas, as required and in line with the code of conduct for special advisers.
"The MoJ receives a high volume of parliamentary questions on a wide range of subjects.
"These vary in complexity, and can sometimes involve compiling detailed statistical information. We are committed to answering PQs in a way that provides the necessary context for members."