Cameron pledges council tax exemption for flood victims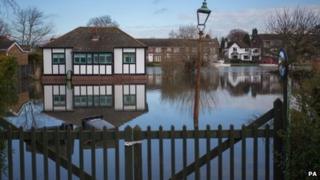 Flood victims in England will be exempt from council tax, Prime Minister David Cameron has said.
Anyone forced to leave their home because of the floods will not have to pay, Downing Street has confirmed.
The government has set aside £4m to fund local authorities to cover the cost of unpaid council taxes.
About 6,500 homes have been flooded since December and Mr Cameron has said "money is no object" to support the clean-up operation.
Meanwhile, Network Rail has announced that the line at Dawlish in Devon, damaged by recent storms, is unlikely to be completely repaired until mid-April.
After the recent floods in several parts of the UK, some local authorities have announced plans to exempt residents forced out of their homes from part or all of their council tax bill.
'Acting quickly'
Somerset County Council has already announced plans to suspend its part of the tax for residents affected by the flooding, and Aylesbury Vale District Council in south Buckinghamshire said households can apply for a 100% reduction in the fee.
Mr Cameron said those councils that helped people in this way would be compensated.
He wrote on Twitter: "I can confirm we will fund councils that give council tax rebates to people whose homes have been flooded."
The prime minister, who visited flood-hit communities in Pembrokeshire and Somerset, has said every resource will be made available to protect people and homes still at risk and support the relief effort.
'It's very important for people to know that if you are flooded out of your house you don't have to pay the council tax while you are out of your house, and central government will be fully funding that for local government," Mr Cameron said.
"It's a good example of acting quickly to reassure people about something that frankly ought to happen anyway and to reassure them."
Some 84 flood warnings remain in place across England and Wales alongside two severe flood warnings - meaning there is a danger to life - in the Somerset Levels.
'Off the pace'
The prime minister warned those affected that it would take many weeks for the flood waters to recede.
"The advice I have is this will take six weeks to clear," he said.
"That is a very long time for farmers to be off their land, for communities to be effectively cut off, for some people to be out of their homes. It's a very long time, it's a long haul."
Labour said the government had been "off the pace" in its response and the details of the council tax rebate offer should be published as soon as possible.
It said that a change in the regulations in 2012, which meant those whose homes are empty for six months or undergoing repairs for a year are no longer automatically eligible for council tax exemptions, should be reversed.
"The government needs to reassure residents that they will work with local authorities to ensure flood victims are not paying council taxes on properties needing substantial repairs," said shadow communities secretary Hilary Benn.
'Stretched'
But the Local Government Association, which represents more than 400 councils in England and Wales, welcomed Mr Cameron's announcement.
"Council budgets are stretched and demand for support is high, so it is good news that government will be supporting local authorities' efforts to provide financial support to flood-hit homes," a spokesman said.
"Local authorities are keen to work with government to ensure the application process is straightforward and that the benefit quickly gets to where it is most needed."
Ministers have already pledged extra funding for councils for flood repairs under the terms of the Bellwin scheme, which provides emergency financial assistance to local authorities.