Labour urges public to be given 'real voice' on laws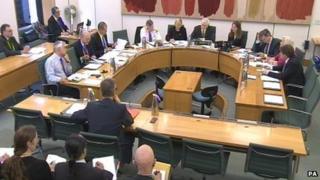 The way Parliament scrutinises legislation must be revamped, Labour has said, with the public given a "real voice" in the law-making process.
Shadow Commons leader Angela Eagle said too many proposed laws were "ill-thought through" and "unworkable".
She is proposing a new stage in a bill's passage in which ministers would answer questions about its content.
Prior to this, MPs and peers would take evidence from the public and experts to help "expose inadequacies".
Draft bills are already subject to public consultation while the majority of bills, once they are presented to Parliament, go before public bill committees which conduct detailed scrutiny and propose amendments.
Public hearings
Since 2006, these committees have been able to take written and oral evidence from members of the public.
While acknowledging the valuable work done by these committees, Labour says a more formal process is needed to open up legislative proceedings and ensure the public's voice is "louder".
In a speech in London, Ms Eagle said these committees should focus on line-by-line scrutiny while new committees should be established to hold public hearings into individual bills.
These public evidence sessions, she said, would give MPs "additional information" before they examined a bill at the proposed new Whole House Scrutiny Stage.
This would take place between a bill's second reading - when the principles of a piece of legislation are debated for the first time - and the committee stage.
'Searching' examination
Ms Eagle suggested the proposals would strengthen the existing arrangements and not "seek to undo any of the progress" made in recent years in securing greater public input.
"This new process will make it much harder for half-written bills to be presented to the Commons and it would subject ministers to a much more searching and timely examination of the content and intention of the legislation... at a time when exposing inadequacies will actually make a difference," she said.
While she welcomed recent changes giving backbenchers more say over parliamentary debates, Ms Eagle said the government of the day still controlled too much of the parliamentary business.
A shortage of legislation in recent times had left MPs "twiddling their thumbs", she claimed.
"We have got a third less legislation in this zombie Parliament than the last and since the new year we have spent just 13 days on government business."
The government will present its last Queen's Speech of this Parliament, outlining what legislation it hopes to pass before the 2015 general election, in May.