Tories can be 'irresistible political force', says Major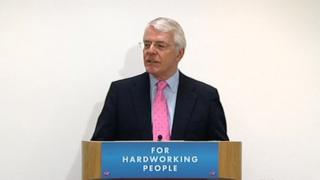 The Conservatives can be an "irresistible political force" if they reassure voters they are on "their side", Sir John Major has said.
Addressing Tory election candidates, the former prime minister urged the party to confront people's "lurking fear" about their economic security.
At the same event, Tory chair Grant Shapps suggested the Conservatives could become the "workers' party".
But Labour said the Tories had prioritised the "privileged few".
Despite signs of a strengthening economic recovery, critics of the government say it remains out of touch with the day-to-day hardships facing many families and businesses.
The Conservatives have been looking at how to broaden their appeal to voters outside their traditional southern heartlands, as the party currently has no councillors in Newcastle, Sheffield, Liverpool or Manchester.
MP Robert Halfon has suggested the party should consider changing its name to the Workers Party and "stop bashing" the trade unions so it cannot be characterised as the "party of the rich".
Sir John, who led the Tories to their last outright election victory in 1992, has also warned his party in recent months that they must not overlook the plight of the "silent have-nots locked into lace curtain poverty".
'Class warfare'
Speaking on Tuesday at a party event, Sir John said the government had done a lot to boost aspiration through schools reform and making it easier for people to get on the housing ladder.
But he said the Conservatives must accept there were a lot of people who were struggling to make ends meet, some of whom felt "frightened about their future".
"Our job is to reassure them, to let them know that we understand it and not only that we understand it but we have policies to put that right, remove the fear that lurks in their mind and open perhaps the opportunities for their families and their children that they may never have faced in the past."
The Conservatives, he added, were the only party able to help people maximise their potential, irrespective of their background, and deliver greater opportunities for all.
"If we can deliver that message, undiluted by disagreement, then it is such a compelling tale that I would personally feel very confident of putting David Cameron where he belongs after the next election - back in Downing Street with an overall Conservative majority."
'Worse off'
In contrast, he claimed Labour were a party of "class warfare and class division" who would "set people against people, rich against poor, north against south, have against have-not".
In response, Labour suggested the Conservatives should be rebranded as the "millionaire's party" following their decision to cut the top rate of tax for those earning more than £150,000 a year.
"You can't pose as the 'workers' party' when you've made working people £1,600 worse off while cutting taxes for the wealthiest," said shadow minister Jonathan Ashworth.
"Asking John Major for help is just a reminder that he was the last Tory leader to win an election - and that Tory MPs don't believe they can win under David Cameron."
He added: "Labour has always been the workers' party - the clue is in the name.
"That's why we'll strengthen the minimum wage, increase free childcare for working parents and introduce a compulsory jobs guarantee for young people unemployed for over a year."