Disability benefit delays cause 'distress'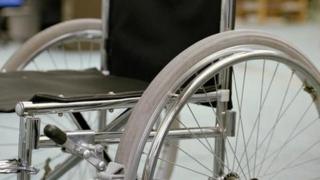 Disabled people are facing "distress and financial difficulties" owing to the slow processing of claims under a new benefit scheme, a report has found.
Claimants for the new Personal Independence Payment (PIP) were having to wait weeks longer than anticipated, the National Audit Office (NAO) said.
Backlogs of thousands of cases had built up in trial areas due to delays in assessment by private firms.
Ministers said the scheme's rollout had been "adjusted" in light of lessons.
PIPs, which are worth between £21 and £134 a week to disabled claimants, are replacing the old disability living allowance (DLA) - one of a number of major welfare changes introduced by the government aimed at reducing the benefits bill and encouraging self-reliance and work incentives.
The government insists the new benefit will be better targeted at those in the greatest need.
But the spending watchdog said poor operational performance in the first phase of implementation had made the government stagger the programme's full national rollout - intended to begin last October - while also increasing the risk that it would not deliver value for money in the long term.
It found claimants were waiting an average of 107 days, and terminally-ill patients 28 days, for a decision on their cases - rather than the predicted processing times of 74 days and 10 days respectively.
'Poor performance'
Within months after the first pilots for new claimants were launched in the north of England last April, a backlog of 92,000 cases had built up in some areas with private contractors Atos and Capita.
The Department of Work and Pensions had made decisions in only 16% of the expected number of cases, the report said.
It also suggested each new PIP claim costed an average of £182 to administer, compared with £49 under DLA.
Amyas Morse, head of the NAO, said all major programmes ran the risk of initial teething problems and it was too early to judge whether PIPs would eventually prove a success.
But he added: "The department did not allow enough time to test whether the assessment process could handle large numbers of claims.
"As a result of this poor early operational performance, claimants face long and uncertain delays and the department has had to delay the wider rollout of the programme.
"Because it may take some time to resolve the delays, the department has increased the risk that the programme will not deliver value for money in the longer term."
Risk 'reduced'
Labour MP Margaret Hodge, who chairs the Commons Public Accounts Committee, said the reported delays were "unacceptable" and must be addressed.
"Without the Department for Work and Pensions sharing details of how long claims should and do take, claimants are left facing uncertainty and potential financial difficulties whilst waiting for a decision," she said.
"The department need to understand the causes of this backlog to develop a clear plan on how they are going to work with contractors to clear it, and ensure there are suitable processes in place to make sure this does not happen again."
The Royal National Institute of Blind People said it was "alarmed" that some people were being left without vital help.
""The process must be urgently improved," said Steve Winyard, its head of campaigns and policy.
The DWP, which expects to assess 3.6 million claims by 2018, said the previous system had been "broken" and needed reform.
"Personal Independence Payment is a principled reform which will ensure support is focused on those with the greatest need," a spokesman said.
"It includes a new face-to-face assessment and regular reviews, something missing under the old system.
"The NAO acknowledges this reform started on time and on budget, and we have reduced risk by rolling it out in phases.
"This has enabled us to adjust our plans as we learn from the initial phases, well before the rollout to the majority of existing disability living allowance claimants next year."