John Bercow 'delighted by' verdict in peer libel case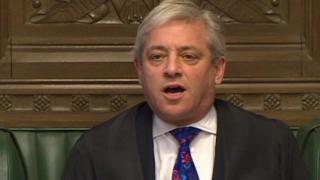 John Bercow has said he is "absolutely delighted" that an attempt to sue a former Football Association boss for libel over comments he made to a parliamentary committee has failed.
Lord Triesman made corruption allegations against some members of the sport's governing body, FIFA, in 2011.
But the Court of Appeal ruled he could not be sued, as he had spoken while protected by "parliamentary privilege".
House of Commons Speaker Mr Bercow called this a "victory" for Parliament.
Lord Triesman, a Labour peer and former minister, was part of the team involved in England's failed bid to host the World Cup in 2018.
In 2011, when he appeared before MPs on the Commons Culture Committee, he made corruption allegations against some members of FIFA.
Worwawi Makudi, former head of Thailand's football federation, attempted to sue Lord Triesman, former FA chairman, for defamation. Mr Makudi has denied any wrongdoing and Lord Triesman's allegations.
'Grave concern'
The Court of Appeal ruled last week that the comments to the committee had been covered by the legal protection of parliamentary privilege, established by the Bill of Rights in 1689, which bars MPs' and peers' proceedings from being "questioned in any court or place outside of parliament".
The chairman of the Culture Committee, Conservative MP John Whittingdale, said this was "a significant re-establishment of the rights of this House".
Had the court decided otherwise, it could have had a "severe effect in terms of preventing us exposing truth", he added.
Mr Bercow, who wrote to the Court of Appeal last year expressing his views, said he had shared the "grave concern" of Mr Whittingdale and that he was "delighted... the court found as it did".
He added: "That was a victory not just for Lord Triesman but for the precious principle of parliamentary privilege and a victory for Parliament itself."
After the comments were made to the Culture Committee by Lord Triesman, the Football Association ordered James Dingemans QC to prepare a report on allegations.
His report was passed to FIFA, which said it had found "no elements in this report which would prompt the opening of any ethics proceedings".