Government jobs website bedevilled with fraud, says MP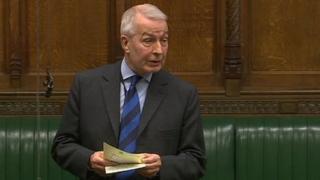 The government's Universal Jobmatch website "is bedevilled with fraud and, in its current state, it is out of control", a senior Labour MP has said.
Frank Field said some jobseekers had been tricked into paying £65 each for bogus criminal background checks while applying for jobs that did not exist.
More than 350,000 job adverts on the website might breach the website's rules in some way, he added.
But the government said the "vast majority" of vacancies were genuine.
Mr Field said the Department for Work and Pensions had written to him admitting that 179 employer accounts advertising 352,569 jobs might potentially be in breach of the website's terms and conditions, which dictate that adverts must describe an "actual job or work opportunity" in an accurate way.
The advertisements must be for jobs paying at least the minimum wage, must not be duplicates and must not include premium-rate phone numbers, the website continues.
'Revolutionary'
But Mr Field said: "Anyone can place an advertisement on the site in the space of five minutes by ticking a few boxes.
"Ministers need to get a grip before more people fall victim to fraudsters preying on them with the helping hand of a major government department."
In a press release, he said he had received evidence from constituents "suggesting jobseekers have been robbed of large sums of money by a sham company that was able to advertise fake jobs on Universal Jobmatch and stage what turned out to be bogus job interviews under a false identity, actually in Jobcentre Plus itself.
"Jobseekers who applied for jobs with the sham company were required, as part of the application process, to provide bank details and an upfront payment of £65 for criminal background checks.
"However, upon arrival at what they expected to be their first day of work, the victims were informed that their new employer was a non-entity and that they had been ripped off."
Mr Field said the Department for Work and Pensions had told him that the 179 accounts were being "contacted to seek evidence of compliance".
But he demanded an urgent investigation from the National Audit Office of the scale of fraud on the website.
A spokesman for the department said: "Universal Jobmatch revolutionises the way jobseekers look for work and it has already helped many jobseekers find the jobs they want through the millions of vacancies posted since 2012.
"The truth is that the vast majority of employers post genuine jobs, and we crack down on those who don't play by the rules.
"We also regularly monitor the site and remove jobs that don't meet our rules, such as duplicate advertisements."