Labour's Caroline Flint: I don't want to trace my father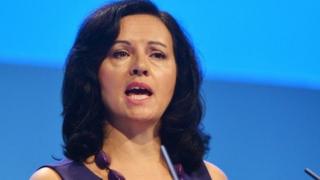 Labour's Caroline Flint says she has never attempted to track down her biological father because she wants to "get on with my own life".
Ms Flint was adopted by the man her mother, who had given birth to her at the age of 17, later married.
She told the House magazine she used to have a "romantic fantasy" about meeting her biological father and "sort of" knew his name.
The shadow energy secretary added she did not want to start a media "storm".
Ms Flint, the 52-year-old MP for Don Valley, South Yorkshire, was Europe minister under the last Labour government.
The mother-of-three told the House about her family background.
'Broke down'
She said: "I never knew my father because my mother had me when she was 17. I don't want to set a storm going from this interview where there will be various friends from the media hunting down Caroline Flint's natural father.
"I know he's Scottish and I sort of know his name. My mother had me at 17 and then later she married and then I was adopted by her husband.
"Later on when that broke down, he really didn't want to have anything to do with me. Having said that, the first 10 years of my childhood were a very nice childhood.
"I think I got to the point where I just felt I have to get on with my own life and what was more important to me than anything else was the situation I was dealing with my own family."
Asked whether she had ever thought of tracing her biological father, Ms Flint said: "Occasionally when I was younger, I used to sometimes think I could find out where he lived and I could turn up on his doorstep like those market researchers and not say who I am."
She added: "I sometimes had a romantic fantasy about that sort of thing and then depending on what I saw in front of me decide to take it further or walk away.
"But, whoever my father is, he's had a whole family life and so I tread with caution on this."
Ms Flint said her husband had suggested she should appear on the BBC One genealogy programme Who Do You Think You Are?, but added that she was "not looking for something".
She added: "I am who I am. For good or bad, my life has made me who I am today."