Heat on chancellor after warm homes cash cuts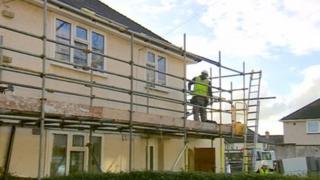 Are the Coalition's green credentials starting to slip?
The question's being asked after an ambitious scheme to insulate homes on one of England's biggest housing estates was stopped in its tracks.
I've talked previously about the installation of "insulation overcoats" on some of Nottingham's poorest estates.
It's cut domestic energy bills and made draughty 1930s homes warm and snug places to live.
So there was genuine excitement when, last year, plans were announced to insulate 4,500 homes on the city's southern Clifton estate. Both local authority and privately-owned homes were to benefit from the £20m project.
Residents were asked to chip in with a contribution of about £1,300 for each home to be insulated and British Gas provided the rest under the government's energy company obligation (ECO) scheme.
The estate was built in the 1950s and in its day was the biggest of its type in Europe. For Clifton, the insulation work was set to become one of the largest home improvement schemes of recent years.
But the rug was pulled from under the project before last Christmas when Chancellor George Osborne scrapped the ECO. It was his attempt to take the pressure off rising domestic energy bills.
The repercussion for Clifton and its residents was that British Gas pulled out of the project. It could no longer rely on the extra cash levy on domestic bills that paid for such green projects.
The issue has been taken up by the area's Labour MP Lilian Greenwood.
"I just think the government were panicked into changing the energy company obligation," she said.
'Lose out'
Lilian Greenwood also has the Energy Secretary Ed Davy in her sights.
"He was under pressure because the energy companies were putting up prices at 10%.
"And he had no policy to counter Labour's promise to freeze prices until 2017. Now as a direct result of his shift in policy, my constituents in Clifton stand to lose out."
Some homes have already had the insulation done. But at present the majority of householders who applied for the work are likely to be disappointed.
In January, British Gas said it had to review its current ECO contracts when government policy changed. For the big energy firms, the ECO levy amounted to 3.5% on a typical annual power bill. That helped to pay for big insulation schemes, like the one in Clifton.
"These changes mean we can no longer fund some projects and unfortunately that is the case with our planned project for Nottingham City Homes," British Gas said.
For Lilian Greenwood, it's not just the loss of an ambitious project to make homes warmer. The work was also helping to employ local apprentices and take 12 young unemployed people off Clifton's jobseekers register.
With the chancellor's main budget just around the corner, is Lilian Greenwood hoping the Treasury may warm to the scheme again and rethink its Christmas decision?
"It looks unlikely," she said.
"But if I can get one of the Department for Energy ministers to visit Clifton for themselves and see some of the insulation work already done, well, it might help our case."