Work for peace, David Cameron tells Israel and Palestinians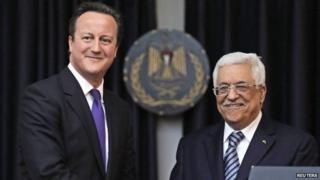 David Cameron has urged the leaders of Israel and the Palestinian Authority to be "partners for peace".
On the second day of his Middle East visit he held talks Palestinian President Mahmoud Abbas, saying both sides had to risk being "unpopular".
Mr Cameron, who also met Tony Blair, who is a peace envoy in the region, said a deal was "certainly possible".
But he "unreservedly" condemned a rocket attack on Israel, which was launched from Gaza on Wednesday.
The UK prime minister is keen to rekindle the Middle East peace process.
He held talks with Mr Abbas in Bethlehem, having met Israel's Prime Minister Benjamin Netanyahu on Wednesday.
Standing beside Mr Abbas at a press conference, Mr Cameron said of him and Mr Netanyahu: "They both will have to take difficult and unpalatable and sometimes unpopular decisions for their constituencies in order to achieve that settlement, but I sense it's possible. I'm not saying it's definite or even probable, but it's certainly possible."
Mr Cameron also held a 20-minute meeting with his Labour predecessor Mr Blair, who is now the special envoy of the Quartet of the UN, US, EU and Russia, working on the development of the Palestinian economy.
Afterwards, Mr Cameron was asked about their relationship.
He replied: "I wouldn't say it is about friendship... We come from different political parties, different political traditions and there are many things we disagree about, but we both want a two-state solution and he has got a contribution to help bring that about by helping generate Palestinian economic growth.
"I obviously listen to Tony Blair's advice, as I listen to many people's advice."
Mr Blair said: "The British government has actually got a great opportunity here, because it is relatively trusted by both sides, which is quite rare in this situation."
Mr Cameron promised £1.5m of grants to help Palestinian companies target foreign investors and export markets.
US deadline
The prime minister also wants to see training given to more than 1,000 female refugees in Gaza.
He has said his aim is to create jobs and industries which could also benefit Israelis.
Despite the Palestinian rocket attacks on Wednesday, which were followed by Israeli airstrikes, Mr Cameron held a video conference with young Palestinians in Gaza to discuss the humanitarian situation.
The Islamic Jihad group claimed to be behind the attacks, in which no one was injured. It said it fired the rockets in retaliation for Tuesday's killing of three of its militants in an earlier Israeli air strike.
Before Mr Cameron left for the Middle East, Downing Street said he would use his first trip to Israel as prime minister to call on both sides to back US Secretary of State John Kerry's peace process plans.
Mr Kerry wants Mr Abbas and Israeli Prime Minister Benjamin Netanyahu to sign up to a framework for a final settlement by the end of next month.
On the first day of his two-day trip, Mr Cameron used a speech to Israel's parliament, the Knesset, to urge the country's politicians to pursue a deal with Palestinians to bring "an end of all conflict".
Mr Cameron last visited Israel as leader of the opposition in 2009.