Shapps 'proud' of support for pubs and bingo amid ad row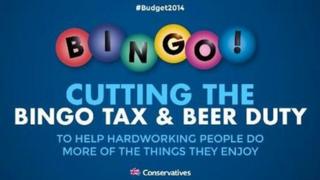 Conservative chairman Grant Shapps has hit back at criticism of a Budget ad saying he was "proud" the party was cutting taxes on bingo and beer.
The Tory ad said the government was "helping hardworking people do more of the things they enjoy".
It was attacked by Labour for "patronising" working people.
But Mr Shapps said he was among the millions who "drank beer and loved a game of bingo" and accused Labour of having "nothing to say" on the economy.
The Conservative Party chairman tweeted the ad in the aftermath of Wednesday's Budget, in which Chancellor George Osborne announced bingo duty would be halved to 10% and tax on beer reduced by 1p.
The ad has been widely parodied on Twitter, with Labour MPs and some senior Lib Dems saying the use of the word "they" in relation to working people was "patronising" and "demeaning".
'Important areas'
But Mr Shapps said he would not apologise for drawing attention to the support given to pubs and bingo halls, thousands of which he said had closed in recent years.
Asked on a visit to Carlisle whether he regretted the ad, he said: "Bingo is a pastime enjoyed by three million people in this country.
"I think it is important to halve the tax on bingo. That is what we have done.
"This government is proud of what it is doing to support the pubs and the bingo sector. These are important areas and the fact that all that Labour have got to do is criticise this shows they have nothing to say about the long-term economic future of our country.
Asked about the language used in the ad, he added "We can all argue about whether the word should be 'they or us' or whatever.
"Personally, I drink beer and I love a game of bingo so I can't see why on earth they think this is more important than talking the long-term economic future of our country, supporting actually sectors like bingo or the local pubs."
All Labour wanted to do, he added, was "talk about the trivia rather than the real issues".
'Mask slipping'
But speaking on Friday, Labour leader Ed Miliband suggested the ad showed the Conservatives' "mask had slipped".
"The 'hardworking people of Britain'. The Conservatives say 'they'. We say 'us'," he told the Scottish Labour Party conference in Perth.
"Have you seen a more condescending, patronising, arrogant, haughty, out-of-touch, misconceived piece of nonsense?
The tax measures were no answer to the "cost of living crisis" facing many families, he added.
"George Osborne's generous offer, buy 300 pints of beer and get one free," he joked.
"Cheaper bingo, except even on that one, there was a catch as the bingo companies say they can't pass on the savings."
Asked about the row at a press conference in Brussels, Mr Cameron said bingo had been taxed "unfairly" and it was right the government should take action.