Labour-Lib Dem coalition idea nonsense, says Alexander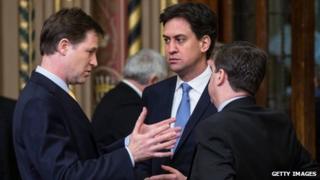 The idea of a coalition between Labour and the Liberal Democrats after next year's general election is "nonsense", Douglas Alexander has said.
He said he was "working and planning for a majority Labour government".
He called the Lib Dems "the enablers of the Conservatives" and said Labour would hold them to account for policies such as raising tuition fees.
Mr Alexander, who is directing the party's election strategy, spoke at the Scottish Labour conference in Perth.
In an interview for BBC Radio 4 last month, Lib Dem leader Nick Clegg talked openly about the possibility of a coalition between his party and Labour, saying the latter had "changed".
But he insisted his first demand in any coalition negotiations would be: "Don't break the bank."
Labour leader Ed Miliband said he was not "interested" in discussing the possibility of a coalition.
'Got it wrong'
Mr Alexander told the conference on Saturday the 2015 election was "quintessentially winnable" for Labour.
He continued: "The Liberal Democrats want to pretend that they are the internal opposition to the Conservatives - they're not the internal opposition, they are the enablers of the Conservatives.
"The reason David Cameron is sitting in Downing Street is because Nick Clegg is sitting next to him at the cabinet table.
"It was Nick Clegg, Malcolm Bruce, Robert Smith, Danny Alexander, all the rest of them, they voted for the bedroom tax, voted to triple tuition fees, and have got it wrong on the economy month after month after month. We need to hold them to account for that.
"In that sense anybody who suggests we should try and have a coalition with them, it's nonsense."
The shadow foreign secretary said Labour would "build momentum" for the election from this September's referendum on Scottish independence, adding: "We will deliver a majority Labour government."
He said the Tories were "in wholesale retreat across the United Kingdom", with only one MP in Scotland and no elected councillors in Liverpool, Manchester, Sheffield or Newcastle.
He added that "the cost of living crisis" would be the "beating heart of our campaign" and "the defining question of the general election."