Ed Miliband 'boxed in' over economic policies says donor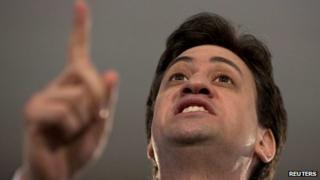 One of Labour's biggest individual donors has said there is very little difference between the party and the Conservatives on economic policy.
John Mills, who gave Labour more than £1.5m in shares last year, said the Labour leader Ed Miliband was very "boxed in" over his policy positions.
If Labour stuck with its general economic strategy, the choices between the parties would be "very narrow".
But Mr Miliband said the parties were "standing up" for different people.
The Labour leadership has been forced to defend its strategy and policy offer after criticism from within the party's ranks of its seemingly sluggish response to last week's Budget.
'Human language'
Labour has said it will not reverse far-reaching proposed reforms to how people access their pension income in retirement - despite initially equivocating and some senior MPs opposing the idea.
Two opinion polls conducted after last week's Budget put Labour just a point ahead of the Tories and a range of Labour MPs and think tanks have urged Ed Miliband to be more radical.
Mr Mills, who owns the Shopping Channel JML, told BBC Radio 4's Today programme that Mr Miliband was doing a good job "in many ways" but he had little room for manoeuvre on the economy.
"Well I think he is very boxed in, to be honest with you," he said.
"With the economic policy structure that we have got at the moment there really isn't much room for the Labour Party to be very different from the Conservatives."
In a new pamphlet, Mr Mills has called for the pound to be devalued to boost exports and business investment, claiming this would increase annual growth to 5% and remove the need for further spending cuts and tax rises to eliminate the deficit.
Among other voices calling for a more distinctive approach, former cabinet minister Hazel Blears said the party needs to make "faster progress" and talk in "normal human language".
'Big themes'
Ms Blears, who served under Tony Blair and Gordon Brown but is standing down as an MP in 2015, told the BBC's Newsnight that the party needed to move quicker to sell its policies to voters.
"I think there are some big themes here," she said. "But we do need to make a bit faster progress on turning them into real things that people can relate to."
Policies on energy, childcare, homes and jobs had to be woven into a narrative that demonstrated Labour understood voters' lives, she said.
"We're 12 months out from an election. You need a good long period, as I know from being party chair, to campaign on your pledge card, your five promises that you're going to get out there and talk to the nation about, and we need to make faster progress at the moment."
Also on Monday evening, Mr Miliband rejected claims that the government's Budget - in which Chancellor George Osborne sought to reward pensioners and savers - was "clever" politically.
"There were a lot of things missing from this budget," he told ITV's The Agenda programme with Tom Bradby.
"I feel that the Budget missed out on the central issue we're facing - the cost of living crisis that so many families are facing. And I think that the contrast that we've seen - the government is saying that the economy is fixed and people who are still feeling that they are worse off."
'Importance of ideas'
Mr Miliband dismissed claims by one Labour MP that his language was "too academic" and he needed to adopt a more direct, plain-speaking approach.
"I think ideas are absolutely crucial. Unless you get your ideas right. Unless you think deeply about the country and the way it's going to work you are never going to be a leader of the opposition."
And he insisted there were clear differences between his party's economic policies and the Tories.
"I took this job on three and half years ago and always knew this was going to be a close election.
"And I relish the fight over the future of country over the next thirteen months and fundamentally I think that is a fight about what you stand up for.
"Do you stand up for a few people at the top, is that where you think a country succeeds? Or do you stand up for lower and middle income people, and that is where I think where this election is going to be fought out."