European Arrest Warrant: MPs demand Commons vote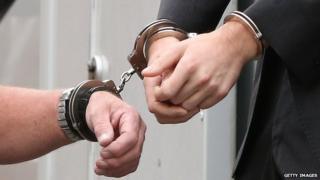 Ministers are facing demands from MPs for a Commons vote over plans for the UK to retain some EU justice laws, including the European Arrest Warrant.
The government said in 2013 it would opt out of all 133 EU justice laws and then seek to opt back in to 35.
MPs approved the opt-outs in July.
But three Commons select committees have taken the rare step of issuing a joint report criticising the government for refusing to give MPs a say on which ones it should try to opt back into.
The European Scrutiny, Home Affairs and Justice Committees said the measures "raise questions affecting public safety and security, as well as the protection of individual rights".
'Intransigence'
The committees said the government had mis-interpreted MPs' backing for the opt-outs as support for their general approach.
Rather, they had previously told the government, "we consider that an early debate (before the government embarks on formal negotiations) would considerably strengthen the government's negotiating hand whilst also ensuring full transparency and accountability to Parliament.
"We can see no reason why the government, having failed to secure a mandate from the House for the measures it wishes to rejoin in July, should shy away from obtaining one now."
Denying the request, ministers replied: "The correct approach to this process is to hold the second vote once we have reached 'in principle' agreement with the EU institutions and the other member states."
But MPs re-iterated: "Put simply, the House should have an opportunity to have a debate - and vote - on which measures the UK should seek to rejoin before negotiations begin," they said.
"Presentation of a 'done-deal', once the negotiation process has been completed, is a poor substitute."
The committees said they now intended to seek a backbench debate to enable MPs to "debate the government's resistance to full parliamentary involvement in this complex and highly significant decision".
They concluded: "The government's intransigence leaves us with no option but to take this matter to the floor of the House."