Visa rules creating nasty feeling about UK, warns peer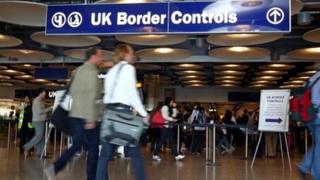 The UK's visa rules are creating a "nasty" impression of the country and leaving many people "in despair", a Conservative peer has said.
Lord Howell, who is Chancellor George Osborne's father-in-law, said the UK had a "fantastic story" to tell about its educational and cultural assets.
But visitors and foreign students were put off by a "jungle of regulations".
Vince Cable and Boris Johnson have warned that tighter immigration controls could damage the economy.
But Home Secretary Theresa May has rejected such claims - and launched a number of initiatives aimed at attracting wealth creators to the UK, including an invitation-only, fast-track visa service for top businesspeople.
Migration target
Visa applications for Chinese visitors entering the UK will also be simplified in a move announced last year by Mr Osborne while on a trade mission to China.
A new report by peers urges ministers to make sure that legitimate visitors can get visas "quickly, easily and cheaply" and ensure that the government's language on immigration does not "discourage those who would add to the UK's prosperity from coming to the UK and supporting its businesses".
Lord Howell, who chairs the Lords soft power and influence committee, told the BBC all those he had spoken to were concerned that the visa system was keeping out genuine businesspeople and students.
The Conservatives have set a specific target of cutting net migration from more than 200,000 currently to less than 100,000 by 2015, although their Lib Dem coalition partners do not support the goal.
New restrictions on graduates' ability to remain in the country after finishing their degrees have seen the number of Indian students coming to the UK fall.
The move was part of a clampdown on so-called "overstayers" - those remaining in the country after their visas expired.
'Wrong signal'
"This country has to be open for business," Lord Howell told BBC Radio 4's Today programme.
"This means we have to welcome the right people, including a lot of students and brilliant, skilled people who add to our power and influence in the world and keeping out those who would do bad things to Britain and damage us.
"This requires very careful handling and we are not getting it right.
"All our witnesses... said the visa policy, and some of the handling of immigration policy, was creating rather a blot, was creating a "nasty Britain feeling" when in fact we have these fantastic assets, which if we handle them right, and tell the story right, can promote a very positive image for Britain and increase our trade."
Rules introduced in 2011 mean non-EU students can remain in the UK after graduating only if they have a skilled job with a graduate-level salary of £20,000 from an accredited employer.
The mayor of London, Boris Johnson, has warned that this is sending the "wrong signal" to prospective students.
Lord Howell, who was a minister under Margaret Thatcher, said he sympathised with students, particularly from Commonwealth countries, who had traditionally come to the UK to study.
"Many students are finding it really almost a matter of despair trying to get in and when they have finished at university wondering whether they have to go home," he said.
However, the peer stressed the committee's report was "very positive" about the UK's future.
The UK, he insisted, had a "fantastic story" to tell in an era when soft power - the use of economic or cultural strengths to secure influence - was becoming more important.