Ed Balls and Michael Gove in business taxes clash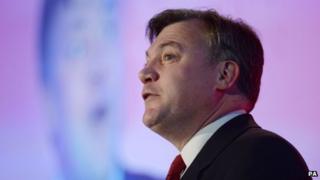 Ed Balls and Michael Gove have clashed over their parties' future tax plans and support for business.
The Tory education secretary said Labour would "set business against business" by reversing a planned cut in corporation tax next year to fund a cut in business rates for smaller firms.
He accused the opposition of "gesture politics" and threatening the recovery.
But the shadow chancellor said it was right to prioritise smaller businesses given the "pressure" they were under.
The two men were both addressing business leaders in London.
The government has pledged to reduce the rate of corporation tax paid by limited companies from 21% to 20% next year, a move which it says will leave the UK with the most competitive business taxes in the G7.
The coalition has steadily reduced the rate of corporation tax from 28% since 2010.
But Labour says it will keep the main rate of corporation tax at 21% and use the money which would have spent to reduce the level of business rates that firms in England have to pay on commercial properties.
'Tight resources'
It has said it will freeze business rates at 2014 levels for two years for premises with an annual rental value of £50,000 or less.
The opposition says its prioritising 1.5 million shops, pubs and other business which have struggled in recent times over the 80,000 larger firms which have benefited from changes to corporation tax.
Speaking at the British Chambers of Commerce annual conference, Mr Balls said Labour had reduced corporation tax from 33% to 28% while it was in office and had supported the further cuts since 2010.
But he added: "We do not think we can justify another tax cut for large businesses in 2015, when so many small and medium sized business are under such pressure.
"The next Labour government will instead cut and then freeze business rates for 1.5 million business properties, a tough choice we need to make to help more businesses when resources are tight."
He said this and other tax proposals - such as Labour's pledge to raise the top rate of income tax from 45% to 50% - were necessary because of the government's failure to reduce the deficit as much as it had planned since 2010.
While Mr Balls said he was "all for having tax as low as we can get it", he said he could not justify giving a tax cut to top earners when the majority of people were worse off than in 2010.
But, speaking at the same event, Mr Gove said Labour would "attack business by raising taxes and introducing policies that would directly threaten investment, threaten jobs and threaten the recovery".
"They would reduce rates for small business, funded by higher corporation tax on larger firms," he said. "But that sets business against business - an approach we firmly reject.
"It's gesture politics driven by short-term political positioning, not the long-term good of our country. And it would set back the economic recovery, which is creating jobs for young people."
Chancellor George Osborne has said he will cap future rises in business rates at 2%, give a £1,000 discount to premises with a rateable value of £50,000 and give 100% rate relief for properties of under £6,000 until March.
In his speech, Mr Balls also said he wanted to build a cross-party consensus behind the UK remaining in a "reformed EU", warning that an "arbitrary" referendum would fuel talk of an exit and damage jobs.
And Mr Gove claimed that the Conservatives were now the "party of Labour", citing Mr Osborne's ambition of securing "full employment" by creating up to a million new jobs.