Labour's rubber to hit the road?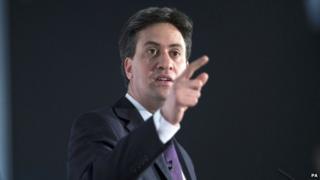 Just in case you're not counting it is now less than 400 days until the next election. To be precise it's 398 days until the moment Ed Miliband might start to pack his bags to move into Number 10. Not very long.
All of which begs a rather important question - what would the Labour leader actually do if he becomes our next prime minister and, more pressingly, what should he say he's going to do in order to convince voters to send him to Downing Street.
It's a question which is causing a little bit of tension in the Labour family. Should the party's next manifesto be bold or safe, radical or reassuring, transformative or credible?
All false choices, insist those close to the leader. Any opposition at any time needs to show that it can make a real difference at the same time as demonstrating its discipline. This opposition at this time knows it must prove it can change the country, even while accepting that the age of austerity will have to roll on.
So it is that in recent days we have caught sight of the odd flash of Labour's policy ankles - just enough to titillate but not enough to over-excite.
Mr Miliband has told the Guardian he might be in favour of re-nationalising some parts of the railway. The party - he said - was working on "innovative solutions" but did not spell out what they were.
'Work in progress'
Last week he declared that he wanted to make "a radical offer on tuition fees" but, again, he did not say what it would be.
The reason for this is clear.
The Labour leader is under pressure not to lose his nerve - from those who backed him over his brother precisely because he promised a more radical approach.
He is, though, also under pressure to do nothing that undermines his party's economic credibility - to prove, as one insider puts it, that he doesn't believe in the idea of free money.
So it is that Mr Miliband has stated that it's his aim to cut tuition fees from £9,000 a year to £6,000. But the question of how to raise the necessary £2bn to £3bn to pay for that cut is said to be "work in progress".
The party's policy wonks are hoping to prove that lower fees could actually raise more money for the Exchequer, as less will be needed to be spent insuring against the uncollectable debts of graduates who can't pay back what they owe.
Thus, the party is examining creating a powerful new non-profit-making railway company to bid for franchises against private rail firms. It's hoped that the money spent subsidising private profits could be diverted to pay for better, maybe even cheaper, trains. That too is work in progress.
"Now is crunch time," one of those involved in writing the next manifesto tells me. In the few weeks leading up to the summer Mr Miliband and his shadow cabinet are due to pick their policy winners and junk the losers. He is said to prefer another phrase picked up from his time living in America.
It will soon be time, the Labour leader says, for "the rubber to hit the road".
What we're waiting to discover is where the road is heading.