William Hague: Russia behind 'escalating' Ukraine crisis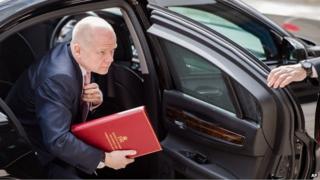 Russia is responsible for a "deliberate and premeditated" worsening of the crisis in Ukraine, UK Foreign Secretary William Hague has said.
Earlier, pro-Russian activists attacked another official building in east Ukraine, ignoring a deadline to leave or face eviction by Ukrainian forces.
Mr Hague said that Russian claims not to have orchestrated the attacks did not have a "shred of credibility".
The move could result in "far-reaching" consequences for Russia, he warned.
Mr Hague was speaking to reporters ahead of a meeting of EU foreign ministers in Luxembourg.
UK Prime Minister David Cameron interrupted his Easter holiday in Lanzarote to discuss the worsening situation with German Chancellor Angela Merkel and was also due to speak to French President Francois Hollande.
Downing Street said Mr Cameron and Mrs Merkel had emphasised the importance of Russia "unequivocally" condemning the occupations in eastern Ukraine.
They agreed that EU foreign ministers should now look at how work on preparing further sanctions could be accelerated.
Mr Cameron has also spoken to Mr Hague, who then called for a "clear and united international response" to the latest violations.
"What has happened in Eastern Ukraine over the last 48 hours is clearly a further escalation of the crisis in Ukraine, and it is a very dangerous one, because of course it could lead to further measures being taken on both sides," the foreign secretary said.
"There is very little doubt, there can't be any real doubt that this is something that has been planned and brought about by Russia.
"The forces involved are well armed, well trained, well equipped, well co-ordinated, behaving in exactly the same way as what turned out to be Russian forces behaved in Crimea, before the full Russian military takeover of Crimea.
"So it has all the appearances of a further gross, deliberate and premeditated violation of the independence and sovereignty of Ukraine.
"It is also clearly a very dangerous thing to do and therefore there has to be a clear and united international response to that."
'Open' to diplomacy
He said that the EU summit would focus on "how we support democratic institutions and the elections in Ukraine".
"We will continue to be very open to every diplomatic option, to support the holding of a contact group later this week to try to de-escalate the crisis," he continued.
"But it's also important to discuss the timing and extent of further sanctions to be applied to individuals in Russia, to complete the preparations for what has been referred to as the third tier of sanctions, more far reaching economic measures.
"It is very important for us to discuss these things in detail among the EU foreign ministers today."
Russian Foreign Minister Sergei Lavrov has denied allegations that Russian agents had been fomenting unrest in eastern Ukraine and said he was seeking an explanation from the US of reports that CIA director John Brennan had visited Kiev.
But Ukraine's foreign ministry has said it has proof Russian forces had been behind the "separatist operation" and said it would present its evidence at a meeting in Geneva later this week.
Ukraine's interim president Olexander Turchynov said the government was preparing an "anti-terrorist operation" against gunmen occupying government buildings in Sloviansk and a number of other towns and cities.
Correspondents say people in eastern Ukraine are anxiously waiting to see if Mr Turchynov carries through his threat to use the army against the pro-Russian groups.
The Assistant UN Secretary General, Oscar Fernandez-Taranco, has warned that Ukraine "teeters on the brink".