Parking firms pay £1.3m more to DVLA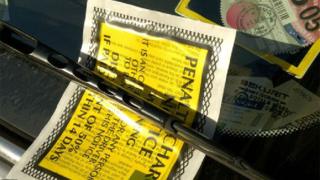 Private parking firms paid more than £6m to the DVLA for the names and addresses of drivers in the past year - an increase of 28%, figures suggest.
The boom has been driven by a big increase in tickets issued to drivers parked on private land such as motorway service stations or shopping centres.
The DVLA charges £2.50 for each electronic request for details.
But it insists it does not make a profit from the scheme, saying the fees only cover administration costs.
Motoring organisations have accused parking firms of "mass ticketing" since clamping cars on private land, which can include everything from hospital and college car parks to motorway service areas, was banned in England and Wales in 2012.
Instead, the companies use CCTV cameras with number plate recognition to target drivers before obtaining their details from the DVLA.
'Protect information'
The first many drivers learn of their alleged infringement is when they receive a penalty notice for up to £100, with a picture of their car, through the post.
It is possible to appeal against the fines through the Parking on Private Land Appeals (POPLA) system.
Unlike some parking tickets issued by the police they are not backed by criminal sanctions - but the firms can employ debt collection agencies to pursue those who do not pay.
The number of electronic requests for personal details from the DVLA made by parking companies has gone up from 1,897,572 in 2012/13 to 2,430,130 in 2013/14. The amount paid by the firms to the DVLA went up £4,743,930 to £6,075,325, figures suggest.
The DVLA made a surplus on its fees income of £10.3m, according to its most recent accounts.
But it says that figure includes income from other sources, such as finance and insurance companies who also pay for driver details, and that it costs £2.84 to process a request from a parking company.
Only firms accredited with the British Parking Association, or other trade bodies, are allowed to use the system in an attempt to weed out rogue operators.
'Deep concern'
A DVLA spokeswoman said: "We take our responsibility to protect information seriously.
"That is why information is only provided under strict controls to parking firms who meet the standards set by an appropriate Accredited Trade Association and are compliant with its Code of Practice.
"If it is brought to our attention that a company does not meet the necessary standards, we will investigate. If the allegations are proven we will stop the release of keeper information to them.
"We do not aim to make a profit on this service - the fee merely covers the cost of processing the applications."
Emma Carr, deputy director of civil liberties group Big Brother Watch, said: "The scale of this trade in personal information should be of deep concern to every motorist in the country.
"The DVLA has a direct financial interest in more people having access to our data, so it's little wonder that the amount of revenue has risen since last year.
"With the information being of such great value, the government must ensure that there are appropriate deterrents for anyone who wishes to abuse access to this information, including the threat of a prison sentence."